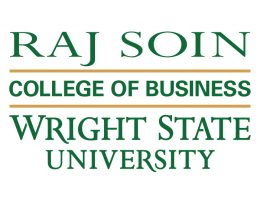 Infor, through its Education Alliance Program, has donated Human Resource Information System software that will be used to train human resource management undergraduate students.
Infor's donation to the Wright State University Raj Soin College of Business is valued at more than $124,000.
Headquartered in New York City, Infor offers business cloud software products for various industries. The company has provided Wright State University with 200 licenses to use the software free of charge.
Kim Lukaszewski, associate professor of management in the Raj Soin College of Business, secured the donation from Infor. She began using Infor's Human Capital Management (HCM) software to teach two sections of the Human Resources Capstone course in the spring 2018. The software is part of Infor's larger enterprise resource planning system.
"For our students it gives them an advantage in the job market because no other HR programs in the area are incorporating such technology, especially hands-on training," said Lukaszewski.
This marks the first time Wright State has had access to Infor's CloudSuite software.
"There is no cost to the university whatsoever," said Lukaszewski. "There is no storage on any of our systems. Everything is hosted by Infor in the cloud. They also provided faculty training free of charge."
Making Wright State students familiar with the software could lead to jobs with Infor or other companies that use the software or similar systems, she said.
"Having the opportunity to work with Infor's HCM software gives the students knowledge and skills that are transferrable to other systems," Lukaszewski said.
She said the technology automates and streamlines many of the routine, repetitive human resource activities and enables those in human resource departments to focus on decision-making and contributing to the company's strategy.
"One thing that can lead to competitive advantage are the people who are developing your products and services; so the value is really in your workforce," she said. "That's why HR is so really critical. HR is responsible to acquire such a workforce and retain valued employees. The use of technology can enable and support HR in these goals."
Wright State offers a bachelor's degree and certificate in human resource management.