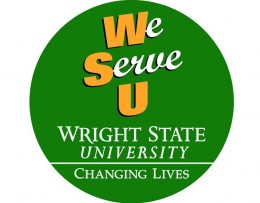 Wright State University has been named to a top ten list of universities for community service according to The Washington Monthly.
The Huffington Post included the rankings on its website here
Specifically citing the We Serve U program, which encourages staff to contribute time and skills to community service projects, Wright State was ranked eighth in the country.
For more about We Serve U visit their website here
"It's wonderful to be identified on this list," said Cathy Sayer, director of service learning.  "We really see ourselves, not so much as giving back to our community, as working with and within it."
"Our mission is to transform the region and the lives of our students through significant service," said Sayer. "Our institutional heart beats within this community."
We Serve U is currently collecting classroom supplies across campus for the Westwood School in Dayton.
We Serve U co-chair Jacqui Neal says the program is all about getting the staff more organized and integrated into an already-flourishing community service campus community.
"Students are already doing a lot on campus, but professionals can offer things in community service that students often can't," said Neal. "We want to tap into that resource in a more organized way with We Serve U."
Primarily, We Serve U aims to organize at least four community service opportunities each year for Wright State professionals, posting essential information about the events on the We Serve U website. But the program aims to facilitate much more than that.
"We wanted to organize community service events on campus that faculty and staff could participate in, but also we wanted to collect information about other opportunities and share that on our website," said Neal.
This isn't the first time Wright State has been recognized for its community service efforts in recent months.
For the second consecutive year, Wright State was named to the President's Higher Education Community Service Honor Roll for its support of volunteering, service-learning and civic engagement.
Wright State was listed on the Honor Roll with Distinction for "its strong institutional commitment to service and campus-community partnerships that produce measurable results for the region." Only 114 institutions across the country received such an honor.