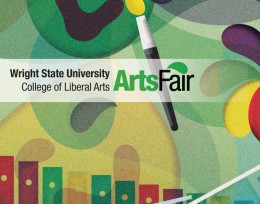 Dancing, painting and artist demonstrations are all on the program for ArtsFair, a family-friendly morning of arts at Wright State University. The College of Liberal Arts has organized a fun and educational experience for art lovers of all ages.
Activities cover the spectrum of creative arts taught at Wright State.
The music department will offer guests the opportunity to try their hands at percussion instruments of all kinds. The walls of the Stein Gallery will be covered in paper, and there will be crayons, pencils, markers and more.
"Aspiring artists of all ages are invited to put their original art on the walls," said Victoria Oleen, managing director of Theatre, Dance and Motion Pictures.
The theatre department will offer dance and acting classes for children 5 and under, 6 to 9, and 10 and up.  There will be a 20-minute selection from the musical Hairspray and a performance by Disney and Friends.
There will also be face painting and demonstrations by various artists.
"It's just a way to introduce the arts to families," said Oleen.
ArtsFair will take place from 9 a.m. to noon on Saturday, Oct. 15. Admission is $5 per person, and a light breakfast is included.
Sponsors for ArtsFair include Morris Home Furnishings and Collaborative Education, Leadership and Education in the Arts (CELIA).
Tickets for ArtsFair are limited. Register by calling (937) 775-2225, or online at http://www.wright.edu/artsfair