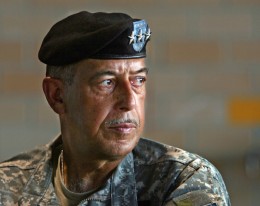 The man who led military relief efforts in areas devastated by Hurricane Katrina, was once called a John Wayne dude who gets stuff done, and is now on a mission to prepare America for future disasters will speak at Wright State University.
Lt. Gen. Russel L. Honoré (Ret.) will make a presentation Feb. 1 at 7 p.m. in the Student Union Apollo Room. His address is free and open to the public.
"The benefit for our students is to provide a real-world view about Katrina from someone who has seen it firsthand, what he saw from his eyes; and also from a leadership standpoint—how he led during an emergency situation," said Edwin Mayes, director of First Year Experience, University College.
Honoré was widely hailed in the media as the "Category 5 General" who led Task Force Katrina following the hurricanes that ravaged the Gulf Coast in the summer of 2005. He is currently a preparedness contributor to CNN and senior scientist with The Gallup Organization, where he is developing questions to determine levels of preparedness.
"During this post-9/11 and Hurricane Katrina era, there has been more emphasis placed on government/FEMA preparedness, but the vast majority of Americans have not grabbed onto the need to be prepared at home and at work for potential disasters," Honoré said. "One of the harshest lessons learned from recent disasters, especially Katrina, is that you are your own first responder."
Honoré's address is sponsored by the Wright State Army ROTC, the Office of the President and the Common Text Committee.
The First Year Experience, launched in 2002, is a Wright State program designed to help incoming freshmen transition to college and develop critical-thinking skills through academic, advising and social support. As part of the Common Reading Program, the students are given a selected book–or common text–during orientation to read and discuss among themselves and in class.
This year, the common text is Zeitoun.
Written by Dave Eggers and published by McSweeney's in 2009, the nonfiction Zeitoun tells the story of Abdulrahman Zeitoun, a Syrian-American owner of a New Orleans painting company. After riding out  Hurricane Katrina, Zeitoun navigated the flooded city in a canoe and rescued neighbors, cared for abandoned pets and dispensed fresh water.
Mayes, who is taking a group of students to New Orleans in the spring for service projects, hopes the book and Honoré's speech galvanize Wright State students.
"Hopefully, it will show them where we need to be as a country and ways they can be more influential through their service," Mayes said. "Hopefully, it will get students to think more about how they can give back."