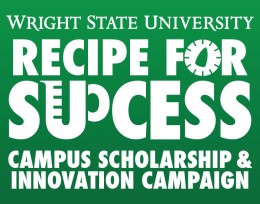 Following a record-breaking year in 2011, unit chairs for this year's Campus Scholarship & Innovation Campaign (CSIC) hope they can whip up similar results.
According to Jennifer Foster, associate director for annual giving, the 2011 CSIC raised $443,323 for scholarships and programs—far exceeding the campaign goal of $290,000. Fifty percent of Wright State's faculty and staff contributed to the campaign.
"That's huge," said Foster. "Fifty percent is seen as the gold standard. That's what most universities should be reaching for."
Keeping in line with this year's theme of "Recipe for Success," a Raider Pride Bake-off was held on March 14 to whet people's appetites for the 2012 campaign. Teams from around campus entered their favorite baked goods to be judged in competition. Winners of the Raider Pride Bake-off will be announced at the formal kick-off for the 2012 CSIC on Monday, March 26, at 3 p.m. in the Student Union Apollo Room. All faculty and staff are welcome to attend.
The fundraising goal for the 2012 campaign is $350,000 with 50 percent participation by Wright State faculty and staff. The campaign runs from April 2 to June 1.
"The more money we raise, the more impact we can have on our students," said Foster. "The money provides the resources and scholarships that help our students succeed."
Donors may contribute to any of the more than 1,600 scholarships and program funds on campus. Pledges can be made by cash, check, credit card or payroll deduction. New this year is the option to enroll in ongoing payroll deduction where pledges are automatically renewed at the end of each fiscal year.
"We'll rebook their pledge and the same amount will be deducted out of each paycheck," Foster explained. "What's nice is that people can still change their amount or designation for the next campaign. They just need to contact us and let us know."
Despite the challenging economy over the last few years, Wright State faculty and staff have never wavered in their generosity to the Campus Scholarship & Innovation Campaign.
"It's nice to see that Wright State's family is giving back," said Foster.