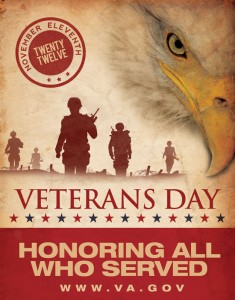 Veterans Day, a day to honor and thank all who served in the United States armed forces, is Sunday, Nov. 11, 2012. Wright State University will be closed Monday, Nov. 12, in observance of Veterans Day.
The Office of Veterans Affairs, the Veteran and Military-Connected Committee, and the Women's Center have planned additional observance and appreciation opportunities for Wright State's veterans. They are the following:
Veterans Appreciation Day Observance
Tuesday, Nov. 13, 2012
10 a.m. to 1 p.m.
Office of Veterans Affairs, E244 Student Union
Come enjoy cake and meet WSU's veterans (students, staff, and faculty).
Book Club
Thursday, Nov. 15, 2012
11 a.m. to noon
Student Union Atrium
"Band of Sisters: American Women at War in Iraq"
Contact Craig This for more information at craig.this@wright.edu.
"Serve. Honor. Power: A Conversation with Genevieve Chase"
Tuesday, November 20, 2012
Open Reception 5:45 p.m. to 6:45 p.m., Student Union Skylight Lobby
Lecture 7 p.m., Student Union Apollo Room