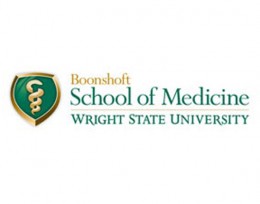 The Wright State University Boonshoft School of Medicine will welcome 104 new students during a special ceremony on Sunday, July 28, formally marking the start of their medical education. The annual Convocation and White Coat Ceremony will be held at 2 p.m. in the Schuster Performing Arts Center in downtown Dayton.
This year's Convocation and White Coat Ceremony is dedicated to Robert P. Turk, M.D., clinical professor emeritus, Department of Surgery, for his tireless service to Wright State University Boonshoft School of Medicine students and residents, and his steadfast commitment to the ceremony since its inception.
During the ceremony, students will take their first oath of professional medical ethics, concluding with the words, "I commit myself to a lifelong journey of learning how to cure, relieve and comfort with humility and compassion." Each student also will receive a white coat — a traditional symbol of the medical profession — personalized with his or her name and the medical school patch.
This year for the first time, each student will also receive a stethoscope engraved with the words, "Excel in Leaving a Mark," thanks to The Jason Madachy Foundation.
The foundation has given more than 700 stethoscopes to medical students nationwide.
Dolly and Joe Madachy established the foundation in February 2008 in honor of their son, Jason Madachy, who died tragically in June 2007 just before he was about to start medical school at Marshall University.
"When Jason talked of becoming a doctor, he wanted to leave a legacy of making a difference," said Dolly Madachy, a professional volunteer who runs the foundation along with her husband, Joe, a retired police officer. "As Jason's mom, I knew that I had to fulfill Jason's dream of helping as many people as I could."
The foundation has a strong connection to the Boonshoft School of Medicine. Several of Jason's friends, including Jeff Moore, class of 2010; Jeremy Moore, class of 2012; and Justin Leung, class of 2012, graduated from the Boonshoft School of Medicine. In addition, Jenn Haas, class of 2013, was Jason's girlfriend at the time of his death. Jason's parents gave Haas the stethoscope he was supposed to receive from Marshall University.
"Every time I use it, I always say I'm using Jason's stethoscope," said Haas, who is starting a general surgery residency at Summa Health/NEOMED in Akron, Ohio. "I'm very protective of it."
Haas was instrumental in formalizing the relationship between the Boonshoft School of Medicine and The Jason Madachy Foundation.
The Convocation and White Coat ceremony represents an important milestone in each student's journey to enter the medical profession. It also marks the first time these students will gather as a class and meet the people who will share, during the next four or more years, what may be some of the most memorable and intense experiences of their lives.
The students, who were carefully selected from a group of 4,400 applications, a record number for the medical school, will begin orientation on Monday, July 29. Classes will soon follow.
The class of 2017 draws from a variety of undergraduate experiences. Educated at various universities across Ohio, including Case Western Reserve University and Central State University, members of the incoming class also hail from Harvard University, Duke University, Emory University, Brown University, Furman University and UCLA among others.
From being a Salvation Army bell ringer to building houses for Habitat for Humanity, they already have shown a strong commitment to community service both at home and abroad. Several have taken mission trips to the Dominican Republic, Thailand, Costa Rica, Haiti, Honduras, South Africa, Nicaragua and Ghana. One student volunteered with the Peace Corps in Panama. In the United States, one student volunteered for a mission trip to Appalachia. Another student volunteered with Special Olympics in ice skating and adaptive skiing. The class also includes two Eagle Scouts.
Fifty-four percent are women, while 46 percent are men. They speak many of the world's languages including Spanish, Chinese, French, Italian, Polish, Vietnamese, Portuguese, Pennsylvania Dutch, Japanese, Urdu, Hindi, Greek, Arabic, Gujarati and Korean. One student speaks five languages — English, Spanish, Hebrew, Russian and Yiddish.
At the July 28 ceremony, Karen Kirkham, M.D., FACP, '89 associate professor and clerkship director in the Department of Internal Medicine, will address the students and their friends and family members. Kirkham received a Master Teacher Award in October 2012 from the Ohio Chapter of the American College of Physicians (ACP).