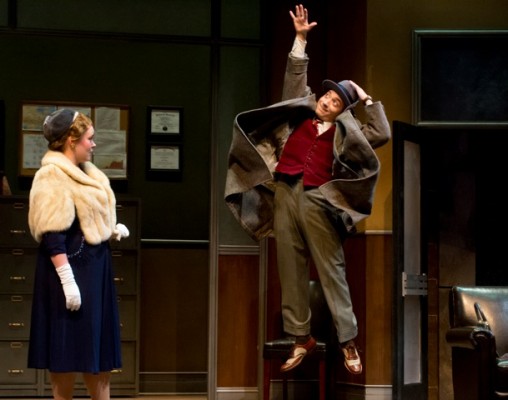 Wright State University Theatre opens its 39th season in the Festival Playhouse with the award-winning smash hit comedy Harvey Sept. 19–29. This season will also include performances of Oklahoma!, The Magic Fire, Les Misérables, as well as the The Wild Party and The Cherry Orchard, to be performed in the Herbst Theatre.
Written by Mary Chase, Harvey opened in 1944 to rave reviews and has been successfully revived several times on Broadway featuring James Stewart (also in the film), Helen Hayes, and last season featuring Jim (The Big Bang Theory) Parsons.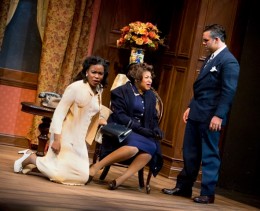 The New York Times wrote about the Broadway production, "You may find yourself wistfully scanning the departing crowds for a glimpse of Elwood's boon companion, that big, furry critter who spreads both exasperation and enchantment among all who encounter him."
Harvey is set in Elwood P. Dowd's mansion, where Elwood and his best friend Harvey, a 6-foot-tall invisible rabbit, are going about their daily lives until Elwood's family comes to visit. Upon learning of Elwood's friend, Elwood's sister, Veta tries to commit him to a sanitarium. In a turn of events, Veta finds herself committed. Once the doctors realize they've locked up the wrong person, a wild goose chase ensues in a search for Elwood and Harvey. Elwood loses Harvey during a plane flight and finds himself back at the sanitarium poised to receive an injection that will make him a "perfectly normal human being."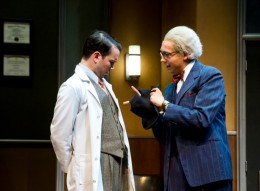 Harvey is directed by Wright State alumnus and regional actor and director Brian McKnight, who directed Wright State Theatre's All My Sons. The set is designed by guest designer, Michael Amico (The Miracle Worker), lighting by Erin Jones (Spring Awakening), costumes by D. Bartlett Blair (Grand Hotel, Funny Girl), properties by John Lavarnway, and sound by Mason Wisecup.
On the stage, this production features Wright State students Cameron Blankenship as Elwood P. Dowd, Taylor Montgomery as Veta Louise Simmons, Renika Williams (Myrtle Mae Simmons), Katie Post (Miss Johnson), Delee Cooper (Mrs. Ethel Chauvenet), Anita Hill (Ruth Kelly, R.N.), Stephen Kell (Duane Wilson), Zack Steele (Lyman Sanderson, M.D.), Jim Miller (William Chumley, M.D.), Cassi Mikat (Betty Chumley), Tommy Dimassimo (Judge Omar Gaffery), and Brandon Kinley (E.J. Lofgren).
Performances are Sept. 19, 25, 26 at 7p.m., Sept. 20, 21, 27, 28 at 8p.m., and Sept. 22, 28, 29 at 2 p.m. Tickets are $22 for adults and $20 students and seniors. For tickets and theatre information call the Box Office at (937) 775-2500.