On the same day Fabrice Shema, a senior finance major from Paris, France, finished his last bit of coursework in Rike Hall, senior Jordon Coffman from Mercer County helped build and program a robot in Jena, Germany. Separated by an ocean, but linked by Raider pride, they are part of a growing demographic at Wright State—students seeking to travel the world to find international opportunities for their college education.
"The size of the campus, the suburban location, the superior support network—these are reasons why international students can thrive at Wright State," said Shema, who followed the advice of a cousin and chose Wright State when he came to the United States for college.
Shema and Coffman are not alone.
Over the last five years, Wright State has seen a 63 percent increase in international student enrollment, which now represents nearly 6 percent of the general student population. It's a shift that's changing the face of campus.
At the same time, study-abroad opportunities among domestic students are on the rise. Students have less interest in trips that focus only on cultural experiences. They are also seeking college credit and professional gain from their international travels.
"This has become a big priority for our students and our campus—to have more of an international experience," said Michelle Streeter-Ferrari, director for the University Center for International Education (UCIE). "Whether it be a chance to come to the U.S. for a first-class education and the opportunity to learn English, or going abroad to round out their college experience, more and more students want these opportunities."
A chance to learn English
Last fall, 1,039 students from 60 different countries chose Wright State as degree-seeking or exchange students. Students from three countries—Saudi Arabia (498), India (158), and China (134)—comprised 76 percent of that group.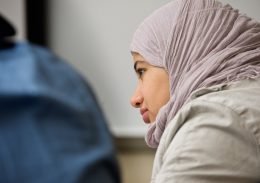 "The past seven years we've really worked on recruitment and focused on the resources that we had, like embassies and sponsored students," said Streeter-Ferrari. "One of our greatest selling points is our English-intensive program, LEAP."
Born 15 years ago, the Learning English for Academic and Professional Purposes (LEAP) program was designed to help students learn the English they would
need to succeed in a Wright State classroom. The program began building momentum several years ago, and today its reputation has pushed well beyond its Dayton campus borders.
"LEAP participation has really taken off over the past three years with a projected increase of another 171 percent next year," said Jeannette Horwitz, LEAP director.
About 20 percent of Wright State international students spend multiple semesters in LEAP classrooms before ever starting their formal academic careers.
"I came to Wright State to learn English," said Jen-Chi Chen, an alumna from Taiwan who recently turned her newly minted nursing degree into a position at Grandview Medical Center in Dayton. "I never imagined I'd finish a degree."
Chen, an engineer by trade, spent more than a year in LEAP classes, discovered nursing, and battled learning both English and dense medical terminology.
"The nursing textbooks and lectures are not like an English novel where if you don't know the word you can read on and figure it out later," said Chen. "You can't skip medical words. If you skip, you might kill the patient."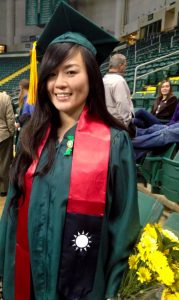 Chen might never have come to Wright State if not for a university policy change that allows conditional enrollment for students who have not yet passed or taken an English proficiency exam.
"We can teach the English here instead of requiring them to pass the test before they are admitted," said Streeter-Ferrari. "That's extremely appealing to students who might struggle to get a visa to study English. Here they can get a conditional admittance to study business, for example, but must first complete the English program to do that."
Shema and Chen both parlayed a solid LEAP foundation into demonstrable success in the classroom. Both graduated with grade point averages well above 3.0. Shema served on the business school's dean's advisory board and plans to begin his MBA studies this year.
According to a recent report conducted by Wright State, international students
who pass the English proficiency test before coming to campus produce an average GPA a half point lower than students who complete LEAP or take some LEAP classes. Graduates of the program average a 3.46 GPA.
"They are just better prepared, and the word is getting out internationally," said Horwitz. "Because of LEAP, they have not only learned English, but have already gained experience navigating the academic system, participating in university classes and developing professional and academic connections in their fields."
Jungle life
Imagine standing alone in the pitch-black Amazon jungle, unable to see your hand inches in front of your face, acutely aware of a symphony of nocturnal forest sounds.
It was a life-changing experience for graduate student Emily King and seven other biological sciences students last summer when they traversed remote parts of the Peruvian jungle during a field study trip for their Tropical Field Ecology class.
"That is a darkness that cannot be described," said King. "You could hear every single noise, every leaf fall, every insect, frog, monkey, bird, everything. It was alive with activity, even in the dark."
The purpose of the nighttime excursion is part of what Tom Rooney calls two-eyed vision. "By the time we leave, I want the students to try to see the jungle as both a visitor and a native," said Rooney, associate professor of biological sciences.
King's experience is not unlike those of the 252 other domestic students who traveled abroad last year for academic credit, co-ops, internships, and community service.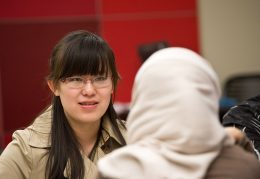 "The majority of our students participate in short-term programs for their first experience," said Streeter-Ferrari. "They're with a faculty member; it's a great first-time experience abroad."
The University Center for International Education (UCIE) organized seven trips in 2013, which took students to China, Costa Rica, Germany, Japan, Taiwan, Tanzania, France,
and Spain. At least 12 trips are already planned for 2014.
Ten years ago, international educational experiences were minimal at best at Wright State, and primarily for liberal arts students.
"Back then, the experience was much more about learning the culture or a language," said Streeter-Ferrari. "Now students want to participate in service learning and improve their professional resume in addition to the benefits of the exposure to another culture
and language."
A challenge to German engineering
Today, study-abroad opportunities that earn academic credit like King's trip to the Amazon or Coffman's journey to Germany are on the rise. These trips prioritize classwork first and tourism second.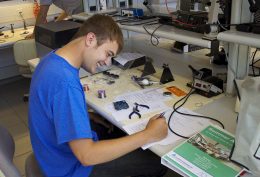 While in Germany, Coffman and his mechanical engineering peers from the Lake Campus not only took a German language class, but also classes in microcontrollers and electrical drives. The group took challenging classes, built several robots, and tried to outperform German engineering students in a battle bot competition.
"What attracted me to this trip was the ability to receive credit while studying abroad," said Coffman. "I wanted an opportunity to see Germany but I also didn't want to waste my summer by not taking classes. The electrical engineering classes were difficult but we learned so much."
Coffman and King had never traveled out of the country, or even set foot on a plane. King boarded eight planes on her trip alone.
Travelin' man
Shema, on the other hand, is a globetrotter extraordinaire—perhaps the best example of a new kind of Wright State student set on making international experiences part of his education.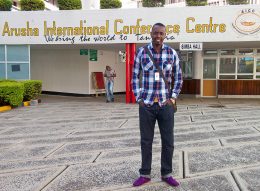 The native Rwandan, his mother and older sister followed his father's work to France when he was 6. His parents returned to Africa to work for the United Nations while Shema was in high school. Shema stayed in France with his sister until college and came to Wright State with almost no ability to speak English. After three semesters in the LEAP program, he began to pursue a bachelor's in finance. He was selected for a summer internship before his senior year with the U.N. International Criminal Tribunal for Rwanda.
Shema worked in the finance department with more than 200 interns; many were law students from universities like Notre Dame, Chicago, Harvard, and NYU. He made friendships he says will last a lifetime.
"It was an amazing experience. I spent the entire summer there, but it felt like just a few weeks," he said. "It was familiar for me because I am from Africa, but it was a time that I will never forget."
Premium on international education
The growth in undergraduate international students on campus is undeniable, yet Streeter-Ferrari said she believes growth in the international graduate student population will be the next big change on campus.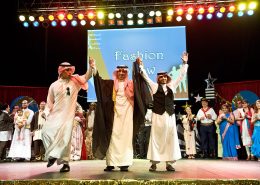 "We've always had a few hundred, but I believe we are poised to see more international students for graduate programs because it's becoming a greater priority," said Streeter-Ferrari. "We're trying to look at diversifying even more."
Streeter-Ferrari said she expects Wright State to attract students from Turkey, Brazil, and other countries with emerging middle classes. The university's growing arsenal of international agents and partnerships is a vast improvement over past recruiting initiatives.
Ten years ago, Wright State employed zero representatives to recruit international students. Today that number has increased to 40, a big reason for the recent growth.
Though the number of domestic students studying abroad has not risen as quickly, gains are being seen there too. A demographic shift away from the traditional female liberal arts student also appears to be on the horizon.
"We want more STEM (Science, Technology, Engineering, and Mathematics) students, more minority students, more students with disabilities. We also want to diversify the kinds of places they are going," said Streeter-Ferrari. "The traditional European summer abroad can be very impactful, but a trip to Tanzania, the Amazon, who knows what else, might just open a student's eyes to a whole new world."