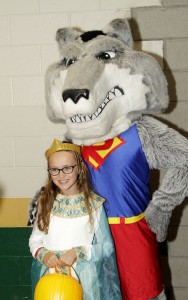 The Wright State University Nutter Center was jam-packed with eager trick-or-treaters Oct. 28. Children and parents alike joined Wright State student-athletes for the annual Howloween Hoopla — an event geared toward creating a safe environment for youngsters to trick-or-treat while allowing student-athletes to give back to the community.
This year's event attracted nearly 4,000 parents and kids and completely depleted the sizeable candy coffers offered by student-athletes. Princesses, ghouls and superheroes were not left empty- handed after leaving the Nutter Center, with bags loaded with candy goodness along with signed autographs from Wright State men's basketball team.
The Wright State Athletic Department hosted the event. In addition, other student organizations participated in all the spooky fun.
Student reporters Natasha Wahl and Reilly Dixon joined the fun and learned what goes bump in the night in this special Halloween edition of Student on the Scene.