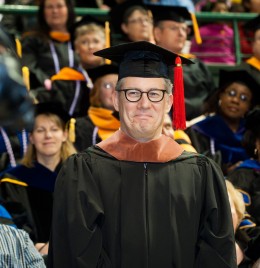 Joe Deer, a professor in Wright State University's Department of Theatre, Dance and Motion Pictures and head of the Musical Theatre program, received the Trustees' Award for Faculty Excellence during the Fall Commencement ceremony Dec. 14.
During the ceremony, Deer said it has been "one of the profound pleasures of my life to teach and work at this institution."
"I am most proud to accept this honor because of what my selection says about this institution," he said. "You chose an arts educator to stand as a symbol of faculty excellence. This speaks so beautifully to the fundamental ethos of this university."
A seventh-generation educator, Deer founded Wright State's highly successful Musical Theatre program 17 years ago. His College of Liberal Arts students have gone on to perform around the globe in national, international and regional theatre productions. Senior Showcase, in which students audition for theatre professionals in New York City, is the program's capstone.
He is sought internationally as a master teacher and education consultant, working with students and faculty at many of the world's top institutions. His book (written with Rocco Dal Vera) Acting in Musical Theatre has been called "the preeminent book in its field" and was nominated by the Association for Theatre in Higher Education as Book of the Year.
Deer is also an award-winning director or choreographer of more than 120 productions in off-Broadway, regional and university theatres, including regional premieres of Parade, Only Heaven, Park Your Car in Harvard Yard and others.
He is also founding president of the Musical Theatre Educators' Alliance.