The first moments of Sara Pyszka's life changed everything.
When Pyszka was born, she couldn't breathe for three minutes. The oxygen supply to her brain was cut off and her motor abilities were permanently damaged. Pyszka has since been living with cerebral palsy—utilizing a motorized wheelchair and a computerized voice mechanism for communication.
But Pyszka pays little attention to her disability.
Instead, she has occupied her adult life with outstanding accomplishments. Pyszka obtained a degree in rehabilitation services at Wright State in 2010; sang the national anthem at two Major League Baseball games; recited the Pledge of Allegiance at the 2004 Republican National Convention; wrote a number of songs with Lucas Richman, the head conductor of the Knoxville Symphony; and most recently, published a full-length novel, Dancing Daisies.
Dancing Daisies is a coming-of-age drama about Brynn Evason. Despite Brynn's cerebral palsy, she is your ordinary 17-year-old girl. She cares too much about what other people think and always finds herself wrapped up in drama. The story takes place at a summer camp where Brynn is swept off her feet by a charming boy who sees past her disability.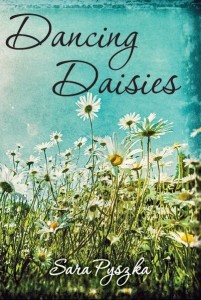 Pyszka first began writing Dancing Daisies when she was 19. Initially, Pyszka's main character was just in a wheelchair. In the second draft, she rewrote the character to make her exactly like herself—that is, having cerebral palsy.
"Somehow, the process became more about educating people about who I am, and what I go through everyday," said Pyszka.
Pyszka has always enjoyed writing, which, she said endows her with freedom she cannot find anywhere else.
"I use my DynaVox to write," she said. "It allows every word, sentence and paragraph to come directly out of my mind."
The DynaVox, a speech-generating device, scans through words and letters on the screen attached to Pyszka's motorized wheelchair. Whenever the DynaVox generates the word she wants to write or say, she hits a switch next to her head.
"I had help with the editing process from other people, but because of the DynaVox, I feel like writing is the one thing I can do 110 percent by myself," said Pyszka.
Dancing Daisies is now available in paperback or as an e-book on Amazon.
"There are two things I'm really hoping people take away from this book," said Pyszka. "The first is that I am able to have a relationship. They are going to be a little different, but I am able to love just as much as anybody else.
"The second thing I want more people to understand is that my disability is not the problem," she continued. "Getting betrayed by your friends is always going to trump not being able to walk. The feeling of not being accepted is always going to trump not being able to talk. Sometimes, one little comment from somebody, positive or negative, really affects me more than my disability."