An analysis by Wright State University's Center for Urban and Public Affairs estimates that the creative industries in the Greater Dayton region accounted for more than 18,000 jobs and $799 million in labor income in 2013.
The study also estimates that the arts generated $2.4 billion in sales, more than $22 million in state and local income tax revenues and sales and other tax revenues, and $66 million in indirect business tax. Indirect business tax includes taxes on sales, property and production, excluding employer contributions for social insurance and taxes on income.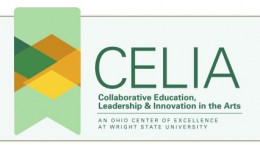 "Wright State and the Dayton region are both great places to nurture the creative industries," said Hank Dahlman, D.M.A., music professor and director of Wright State's Ohio Center of Excellence in Collaborative Education, Leadership and Innovation in the Arts (CELIA).
"Wright State's liberal arts programs play an important role in making the Dayton region a strong and uniquely creative community—which has had a significant impact on the region's overall economy," he said.
In a single academic year, Wright State's College of Liberal Arts produces six plays; hosts regular arts exhibits in the Robert and Elaine Stein Galleries; presents weekly music concerts and recitals; stages two opera performances; offers three dance concerts; and organizes the ArtsGala fundraiser, the Holidays in the Heartland celebration at the Schuster Center and the Big Lens Film Festival.
The university also hosts internationally significant lecturers, visiting scholars and innovative multidisciplinary conferences.
In recent years, Wright State has undertaken ambitious events including: performing Bernstein's MASS in 2011 with the Dayton Philharmonic Orchestra; hosting Broadway composer Stephen Schwartz as part of the Distinguished Visiting Artist Series; and organizing "Pride and Prejudice: The Bicentennial," a conference and ball celebrating Jane Austen's classic novel.
The university also collaborates with many local organizations on important community endeavors such as the Dayton Literary Peace Prize.
Future headline events at Wright State include a yearlong commemoration of the centennial of World War I and a weeklong Distinguished Visiting Artist residency on campus by Keith Lockhart, conductor of the Boston Pops and BBC Concert Orchestras. Lockhart's residency will culminate with a full production of Benjamin Britten's War Requiem, featuring the Wright State choirs and the Dayton Philharmonic Orchestra and Philharmonic Chorus.
Commissioned by CELIA, the study analyzed the economic impact of the creative industries in the 16 counties anchored by Wright State's Dayton and Lake Campuses. Counties included in the study are: Allen, Auglaize, Butler, Champaign, Clark, Clinton, Darke, Greene, Logan, Mercer, Miami, Montgomery, Preble, Shelby, Van Wert and Warren.
Creative industries studied in the report included broadcasters, publishers, printers, advertisers, artists, performers, theaters, cinemas, camera shops, commercial photographers and agencies. The analysis examined both for-profit industries and nonprofit organizations.
In the study, the Center for Urban and Public Affairs used Economic Modeling Specialists Intl. (EMSI) to estimate complete employment for the 16-county region in 2013 and IMpact analysis for PLANning (IMPLAN), a tool for economic impact assessment, to estimate the direct, indirect, and induced impacts of the estimated 10,331 employees on the regional economy.
The study utilized IMPLAN economic modeling software and 2009 IMPLAN Social Accounting Matrices data sets for the 16 counties. This helped analysts measure current economic impacts and what economic impact a project or action can have on the local economy.
The industries studied for the analysis were derived from "Ohio's Arts: A Foundation of Innovation, Creativity and Economic Strength," a 2009 study by the Bowling Green State University Center for Regional Development.
CELIA, a unit of Wright State's College of Liberal Arts and an Ohio Center of Excellence since 2011, is committed to developing multidisciplinary and innovative collaborations in the college, the university and around the Dayton region. CELIA brings nationally and internationally renowned artists to campus and fosters a vibrant community of leadership and scholarship on campus through its CELIA Fellows program.
Established in 1986, Wright State's Center for Urban and Public Affairs, another unit of the College of Liberal Arts, conducts applied research that supports public and nonprofit clients who want to improve operations and address urban, suburban and rural issues.
Learn more
The CUPA study is available on the CELIA website.