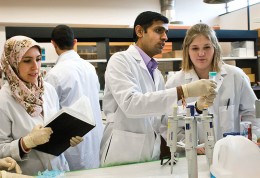 To better prepare students for a career in pharmacology and toxicology, Wright State University's Department of Pharmacology and Toxicology at the Boonshoft School of Medicine now offers a leadership/administration master of science program.
The one-year program is for students who want to become lab managers, leaders or higher education administrators in the pharmacology and toxicology field.
"Our students can now select a leadership/administration or a research-based program," said Terry Oroszi, director of the program. "We equip our graduates with the knowledge, experience and training to prepare them for academic, industrial and government careers worldwide."
The program offers classes unique to the Wright State leadership/administration master's degree, including green belt certification in Six Sigma, good laboratory practices, lab safety, lab management and communications in science.
In pharmacology, students explore how drugs interact with biological systems, while toxicology is the study of the adverse or toxic effects of drugs and other chemical agents.
"We train the next generation of leaders in pharmacology and toxicology," Oroszi said. "Our students collaborate with scientists from various backgrounds to contribute to medical advances in health care."
More information about the program is available on the Boonshoft School of Medicine website or by contacting Stacy Gehret at pharmtoxms@wright.edu.