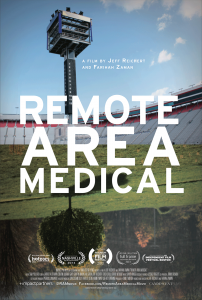 Student groups from the Wright State University Boonshoft School of Medicine will host a screening of the film "Remote Area Medical" on Thursday, Oct. 23, 6:30 to 8:30 p.m., in the Gandhi Auditorium in White Hall on the Wright State campus.
The event is free and open to the public. Parking is available in lots 16 and 17 near White Hall free of charge and without a permit.
The Boonshoft School of Medicine Physician Leadership Development Program, the school's American Medical Student Association chapter and the school's American Medical Association are presenting the 79-minute film.
"We hope that viewers gain a better appreciation for people struggling to receive health care," said Nick Christian, a second-year medical student who is a member of the Physician Leadership Development Program. "This film puts a face to those struggling with health care accessibility."
Directed by Jeff Reichert and Farihah Zaman, the film focuses on Remote Area Medical (RAM), a three-day pop-up medical clinic that serves the poorest and most vulnerable Americans. Viewers are taken to the Bristol Motor Speedway in Tennessee to get an insider's perspective on the event — from the tense 3:30 a.m. ticket distribution that determines who gets to be seen by physicians to the routine check-ups that take dramatic turns for the worse.
Boonshoft School of Medicine students have witnessed this firsthand. Second-year medical student Lauren Gunderman volunteered at a Remote Area Medical event in July 2012 in Wise, Va. She took medical histories, blood pressures and temperatures.
"No one had insurance," Gunderman said. "I noticed little issues that could have been fixed easily. Without medical care, these small health problems became bigger problems."
Discussion will follow the film. The discussion panelists include Steven Bognar, a faculty member in the Wright State Department of Theatre, Dance and Motion Pictures and an Academy Award-nominated and Emmy-winning filmmaker; Kate Conway, M.D., an assistant professor of family medicine at the school of medicine; Lauren Gunderman, a medical student who volunteered at a Remote Area Medical event; Matthew Noordsij-Jones, M.D., state codirector for Doctors for America and a physician with Community Health Centers of Greater Dayton; and Julia Reichert, a three-time Oscar nominee and Wright State professor emeritus of motion pictures.