As images of a zombie apocalypse in "The Walking Dead" unspool on the screen, the students in Andrea Harris' Wright State University class are furiously taking notes.
The Zombies & Gender in Pop Culture class is an earnest academic exercise. And the students take it as such, throwing themselves into class discussions that transcend science fiction and explore gender, race, sexual orientation and other issues in today's society.
Harris started teaching the class Spring Semester. It filled up instantly, and Harris has been asked to teach it again.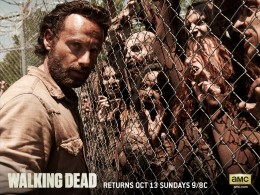 "We're not sitting around eating popcorn and talking zombies; we're doing serious academic work here," she said. "It's gone tremendously well. The students are writing analysis papers. They're doing really incredible work."
In addition to "The Walking Dead" and "Resident Evil," the class has also studied "Night of the Living Dead," "Dawn of the Dead" and "Zombieland."
During one class, Harris leads a discussion using a scholarly article that attempts to plumb the depths of the zombie film and television craze. The discussion is spirited:
Why have zombie films gone from strictly horror to a more science fiction flavor? Do the zombies represent global capitalism and how it is destroying society? What's the symbolic meaning of the prison in "The Walking Dead?" Is there such a thing as "zombie ethics," when morality is suspended in emergency situations and anything one must do to survive is moral?
Harris, who obtained her bachelor's and master's degrees in English from Wright State, has a dual appointment, in the Women's Studies program and the Department of English Language and Literatures.
She discovered the whole zombies phenomenon a few years ago after her son urged her to watch "Resident Evil," a 2002 science fiction action-horror film that features a bioengineering pharmaceutical company responsible for a zombie apocalypse. The protagonist, Alice, an enemy of the corporation, is a strong female character.
"I fell in love with her character," Harris said. "I said, 'Something is going on here. There is something different happening with representations of gender in these types of films.'"
Soon after that, "The Walking Dead" came out on television. The horror drama series features sheriff's deputy Rick Grimes, who awakens from a coma to find an apocalyptic world dominated by flesh-eating zombies called walkers.
Harris was an instant fan.
"I started paying attention and asked the question like a lot of people are asking: What's going on with zombies? Why are zombies everywhere? What are they telling us about where we are in society right now, about who we are?" she said.
Harris believes that global terrorism and global pandemics along with increasing competition for resources, decreasing public trust in societal institutions, new ethical challenges accompanying technological advances and environmental and ecological concerns have contributed to a general feeling of uneasiness regarding the future of humanity. Zombies have come to represent that threat.
"As soon as the zombies arrive in films and television, all social order goes out the window," she said. "So the institutions that we think will protect us — whether it's the military, our government, the social institutions — those all collapse. The hospitals are gone. The media is gone. The government's gone."
She calls "The Walking Dead" "incredibly well done."
"The cultural resonance that it has just blows me away," Harris said. "More people have tuned into that than NFL football."
Most viewers root for the survivors.
"When you talk to people who watch this, they're thinking 'How would I survive? What would I do?'" Harris said. "They're putting themselves in the position of the survivors. It's a way for us to envision that if the center doesn't hold, am I going to be OK?"
In her course work, Harris uses audience reception theory, in which audiences participate in the construction of a text's meaning. The meaning of a given text can change according to the time and place of its reading as well as the social location of the audience.
"We are particularly concerned that when the zombie apocalypse happens and there is no social order, what happens after that?" she said. "We're looking at things like nationality, race, gender, sexual orientation, range of abilities. Is the same social order reinstated when you have that breakdown?"
Harris says her course is strong evidence that more attention needs to be paid to pop culture.
"There is this idea within academia that pop culture is beneath us," she said. "But if we're serious about understanding the dynamics within society and understanding people and how we're functioning in relation to one another, I think we have to pay attention to pop culture because media is more pervasive than it's ever been."