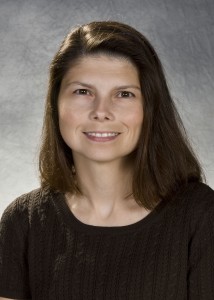 Heather Hostetler, associate professor of biochemistry and molecular biology at Wright State University, died Aug. 5 at the age of 41.
She had been diagnosed with gastric carcinoma and died suddenly due to complications from aspiration pneumonia.
Hostetler joined Wright State University in September 2009 with a matrix position in both the Boonshoft School of Medicine and the College of Science and Mathematics and was awarded tenure this summer.
Her research focused on nuclear receptor regulation in energy homeostasis, with a particular focus on diabetes. She had received funding from the National Institutes of Health, resulting in more than 15 publications during her time at Wright State and more than 28 publications during her scientific career. She also reviewed grants for agencies such as the American Heart Association and manuscripts for numerous peer-review journals.
She is survived by Dean Rider, research assistant professor of biochemistry and molecular biology at Wright State, and their 3-year-old triplet daughters, Samantha, Mahala and Autumn.
Donations to support Hostetler's three daughters can be made to either the Heather Hostetler Memorial Fund at Wright-Patt Credit Union (use WPCU Routing Transit Number 242279408, Account Number 1000006767618) or online at gofundme.com/HeatherHostetler.