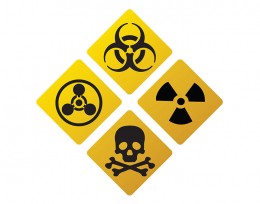 Because of increased demand for academic classes in chemical, biological, radiological and nuclear (CBRN) defense, the Wright State University Boonshoft School of Medicine Department of Pharmacology and Toxicology is now offering all three courses of its CBRN Defense Certificate Program online each semester.
The Wright State program is the nation's only graduate-level CBRN Defense Certificate Program. The three-course program, which can be completed in four months, is taught by experts with current industry and armed forces experience.
The program equips graduate and advanced undergraduate students with cutting-edge knowledge and experience in CBRN defense.
"Offering all three courses each semester provides students and industry professionals with the ability to complete the certificate in one semester or choose the topics that best fit their interests," said Terry Oroszi, director of the CBRN program and director of the Master of Science in Pharmacology and Toxicology Program at the Boonshoft School of Medicine.
To address the increase in course requirements, the Department of Pharmacology and Toxicology has hired Kelley Williams as adjunct faculty. He serves as the associate director of the program and is director for two of the three courses.
"He brings a wealth of knowledge and experience from his military and academic CBRN and weapons of mass destruction background," Oroszi said. "He will foster our longstanding relationship with Battelle researchers and ensure the courses address cutting-edge developments in CBRN defense."
In addition, Wright State has streamlined the application process for non-Wright State students who are interested in CBRN defense but are attending another university, serving in the armed forces or working in an industry or agency responsible for CBRN defense.
The increased course availability and streamlined enrollment also make the program accessible to students who want to use tuition assistance through military service.
For more information about military tuition assistance, contact Williams at kelley.williams@wright.edu.
For more information about the certificate program, go to catalog.wright.edu/chemical-biological-radiological-nuclear-defense.
To apply for the certificate program, go to app.applyyourself.com/AYApplicantLogin/fl_ApplicantLogin.asp?id=wrightgrad.
The first day of classes for the fall semester is Aug. 31.