A politician, an academic, an athlete, and a comedian walk into a room. It may sound like the start of a joke, but it's actually the speaker schedule for this year's Presidential Lecture Series.
Each speaker will help Wright State University, a pioneer in accessibility, celebrate and educate its community about the 25th anniversary of the Americans with Disabilities Act of 1990 (ADA).
Former U.S. Senator Tom Harkin, outspoken academic Temple Grandin, adaptive athlete Amy Purdy, and rising comedian Maysoon Zayid fill a star-studded slate sure to challenge and engage Wright State's community in ways never done before.
"It only makes sense for us to reflect and celebrate the ADA," said Tom Webb, director of disability services. "Because not only is accessibility at the core of our culture at Wright State today, but it's always been there. Our commitment to serving students with disabilities dates back to the early '70s, and when the ADA was adopted in 1990, it validated what Wright State had been doing for years—providing equal access to higher education for all students."
Today Wright State has one of the most accessible campuses in the country. Named among the top five disability-friendly universities in America, Wright State provides an accessible pedestrian tunnel system that connects nearly every building in the academic sector of campus. The university converts countless textbooks into alternate formats for students with disabilities, helps coordinate in-house personal assistance services (something most universities have stopped), and can boast about having a robust Ohio STEM Ability Alliance program, a one-of-a-kind service dog park, the reigning Ms. Wheelchair Ohio, and a popular service dog training program.
Wright State is a national leader in everything the Americans with Disabilities Act stands for.
At its core, the ADA was created to open doors and provide opportunity to those who have traditionally been shut out from employment, education, and participation in everyday activities like shopping, visiting a park, or even riding a bus.
The act's first title, the employment section, is still an area that has not completely taken hold, though it was the original impetus for the law. Advocates say employment opportunities have improved for some people with disabilities, but there's still a lot of work that needs to be done.
"But in terms of building architecture, telecommunications, and transportation, it has revolutionized those industries. It's no longer an afterthought. It's baked in, as they say," said Webb. "I think three of our four speakers are good examples of people who are using their disability to open doors for themselves, market themselves, instead of letting it be something that prevents them from succeeding."
The first lecturer can attest to the power of marketing one's unique skills and perspective to set a path to success.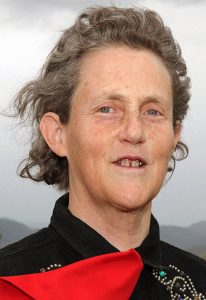 Academic and outspoken disabilities advocate Temple Grandin will visit Wright State September 9. A professor of animal sciences at Colorado State University, Grandin has Asperger's and has used her disability to see the world differently, helping to revolutionize humane livestock handling. She was the subject of the HBO movie Temple Grandin, in which acclaimed actress Claire Danes played Grandin.
People may also know her from her TED Talks in which she describes how she thinks in pictures or imagery, whereas most people think in a narrative with words. Grandin believes her visual thinking allows her to make connections that inspire her livestock equipment designs, based on her ability to observe the animals' behaviors and imagine their perceptions of the environment.
Grandin states that her disability and her development of strategies and coping mechanisms have set her apart and set her up for success. In one TED Talk, she explores her theories about different types of non-neurotypical thinkers and how their unique perspectives can solve problems and provide insights that neurotypical brains might miss. She said Einstein, Mozart, and other prodigies would today be diagnosed with Asperger's or within the high-functioning range of the autism spectrum.
Diagnosed with autism nearly 40 years before the ADA, Grandin is a proponent of early intervention in the education of students with autism. She believes that students on the autism spectrum could prove to be a rich source of innovation and revolutionary ideas—if given the proper support and education. Grandin's message to the world is to foster the skills of students on the spectrum, not shut them out of the education process due to intellectual and social differences.
The university's second speaker, former Senator Tom Harkin, worked tirelessly for years to enact government policies to support equal rights for people with disabilities.
"In former Senator Harkin's case, though he does not have a disability, he's been an unwavering and passionate advocate for people with disabilities for decades," said Webb.
Webb should know. As a Kennedy Fellow, he worked with members of Harkin's staff in Washington, D.C., to improve the ADA of 1990 with the ADA Amendments Act of 2008. Harkin, who has a brother who is deaf, was integral in getting both acts passed. Webb said Harkin did so by attracting and employing "some of the most brilliant minds over the last 30 years for disability policy."
Harkin will make his first visit to Wright State November 3, a trip he told Webb and Assistive Technology Specialist Katherine Myers was long overdue when they were in Washington, D.C., in 2014 to testify before Congress about accessibility best practices in higher education.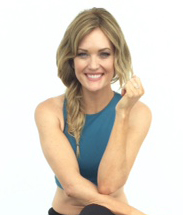 Amy Purdy's refusal to be shut out exemplifies the spirit of the ADA. Wright State's third speaker in the Presidential Lecture Series has been a world-class athlete since she was a teenager, held her own on the popular television show Dancing with the Stars, and is co-founder of Adaptive Action Sports. She's also a double amputee with prosthetics for both her legs.
Already a world-class snowboarder, Purdy lost her legs after a protracted battle with a form of bacterial meningitis at the age of 19. Undeterred, she soon became a world-class adaptive snowboarder and won a bronze medal in the 2014 Paralympics.
"Like our students, she's one of those people who can show you really can overcome a lot of obstacles no matter when your disability develops in life," said Webb.
Purdy has leveraged her disability into marketability by writing books, joining Oprah's speaking tour, and becoming an advocate for people with disabilities.
"She's in that category that's pushing the boundaries in terms of athletes and their modifications, but she's also showing that beauty can take all forms," said Webb. "One person's definition of beauty doesn't have to match the rest. She's succeeding at spreading a message of inclusiveness and acceptance."
The 2016 Honors Institute Symposium speaker is carrying that same banner of inclusivity in the entertainment industry.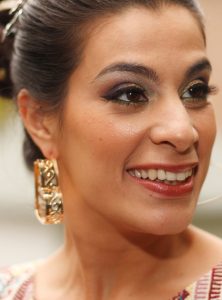 Maysoon Zayid is a Palestinian comedian from New Jersey who also has cerebral palsy. In her TED Talk, viewed nearly seven million times, Zayid is frank and funny about her disability: "I have cerebral palsy. I shake all the time. I'm like Shakira meets Muhammad Ali."
Though her disability inspires her comedy, she denies that it defines her; she has famously said on stage, "I've got 99 problems in my life and palsy is just one."
A writer, actor, and comedian, Zayid is the co-founder of the New York Arab-American Comedy Festival and an up-and-coming actress fighting for roles that have traditionally gone to able-bodied actors with no disabilities. She uses her comedy to point out the disproportionate representation of people with disabilities in the entertainment industry: "If a wheelchair user can't play Beyoncé, then Beyoncé can't play a wheelchair user…People with disabilities are the largest minority in the world, and we are the most underrepresented in entertainment."
Zayid completes a subtle theme in the PLS slate this year. Each speaker has leveraged his or her disability or passion for accessibility into success and advocacy. They've used it to their advantage by creating a brand around it. But they didn't do it alone. It's a message that Webb hopes Wright State students will hear.
"They all in their own way represent the progress the ADA has provided. There's a good chance Amy Purdy would never have been able to get on Dancing with the Stars if it was 25 years ago. There's a good chance Temple Grandin might not be able to have a faculty position at a major university," said Webb.
"All these things have really been enabled because of the ADA. It's time to celebrate it. Whether it be with dogged political advocacy, poignant TED Talks, or stunning athletic achievement, let's let the spirit of the ADA continue to push us forward as it has for this star-studded group of speakers."