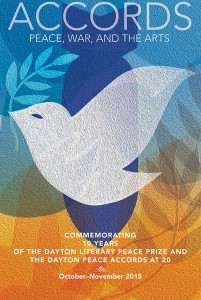 Wright State will celebrate the Dayton Peace Accords and the Dayton Literary Peace Prize with a photography exhibition, concert and literary conference.
Sponsored by Wright State's Ohio Center of Excellence in Collaborative Education, Leadership and Innovation in the Arts (CELIA), Accords: Peace, War and the Arts includes three events:
"Visions of Conflict," a photography exhibition in the Robert and Elaine Stein Galleries, Oct. 18 to Nov. 15
Harmony in the Heartland: A Concert for Peace in the Schuster Performing Arts Center, Sunday, Oct. 25, at 7:30 p.m.
Ten Years of the Dayton Literary Peace Prize conference in the Creative Arts Center, Oct. 29 to 31
Most events are free and open to the public. Conference registration information and event schedules are available at wright.edu/peace.
Negotiated at Wright-Patterson Air Force Base, the 1995 Dayton Peace Accords ended years of ethnic warfare in Serbia, Bosnia and Herzegovina, and Croatia. The agreement created two sovereign states, Bosnia and Herzegovina.
Founded in 2005 in commemoration of the Dayton Peace Accords, the Dayton Literary Peace Prize annually recognizes the best fiction and nonfiction literature that promotes the cause of peace.
Andrew Strombeck, associate professor in the Department of English Language and Literatures, organized Wright State's Accords activities during a fellowship with CELIA last spring.
Strombeck focused his fellowship on the literary peace prize because it supports and strengthens Dayton's reading public and responds to a bright moment in international affairs that is also an important moment in Dayton's history.
"Not only is the prize a crucial part of Dayton's literary cultures, it also poses important questions about what work literature might actually do to promote peace," Strombeck said.
"Visions of Conflict" exhibition
"Visions of Conflict" will examine how four photographers respond to their own experiences in conflict, as well as the consequences of war in contemporary culture.
The exhibition features photographic works by award-winning photojournalists and documentary photographers Ziyah Gafić, Jessica Hines, Louie Palu and Larry Price.
The exhibition is curated by Benjamin Montague, associate professor of art.
Ziyah Gafić will give a gallery talk Sunday, Oct. 18, at 2:30 p.m., followed by a reception until 5:30 p.m.
Louie Palu will give a talk Friday, Oct. 30, at 3:30 p.m., followed by a reception until 5 p.m.
Gafić, who was born in Sarajevo, documents the artifacts of genocide retrieved in mass graves across Bosnia in "Quest for Identity." His photographs have become tools for identification for the families who are still searching for missing loved ones. His photo essay on Bosnia was published in the book "Tales from Globalizing World."
Palu's "Garmsir Marines" is a series of large formal portraits taken of soldiers as they return from patrol in Afghanistan. Palu is the recipient of numerous awards including a National Magazine Award, National Newspaper Award nominee and Pictures of the Year International.
In her series "My Brother's War," Jessica Hines investigates how the Vietnam War affected her brother, while she struggles to make sense of the personal tragedy it inflicted upon her. Hines has won the 2013 PDN Photo Annual and Lens Culture International Exposure Awards and has work included in the collections of the Brooklyn Museum and the Museum of Fine Arts in Houston.
Larry Price's "Redemption Stories" features portraits of adults from the Democratic Republic of Congo who survived years of conflict as child soldiers and women caught in the sex trade. Price has won two Pulitzer Prizes and has been honored by the Overseas Press Club, World Press Photo Awards, the Pan American Press Association and the National Press Photographers Association.
Ten Years of the Dayton Literary Peace Prize
Ten Years of the Dayton Literary Peace Prize: A Literary Conference will celebrate the legacy of the Dayton Literary Peace Prize by examining how literature engages war, promotes peace and encourages conflict resolution.
The conference will feature numerous speakers, including several Dayton Literary Peace Prize winners, panel discussions and theatrical and musical performances by Wright State students.
The conference is free and open to the public. The conference schedule is available at wright.edu/peace.
You can register for the conference online.
"The conference is basically a big book club and will be appealing to everyone who loves the arts, is inspired to make a difference and politically engaged," Strombeck said. "If you're compelled to understand and change your world, if you enjoy art, music and theater that makes a difference, if you read writers such as Tim O'Brien, Wendell Berry, Barbara Kingslover and Chimamanda Adichie, join us for this groundbreaking event."
The conference will feature stimulating discussion on literature and peace, inspired by smart, innovative speakers who will deliver TED-style talks addressing how great literature can help reduce conflict and promote understanding.
"John Beckman, for example, writes about how Americans have historically dropped their distrust for each other in the name of fun, and Timothy Melley writes about how literature reflected the tensions of the Cold War," Strombeck said.
Other featured speakers also include Sharon Rab, Dayton Literary Peace Prize co-founder, and Claire A. Culleton, professor of modern British and Irish literature at Kent State University.
Two recent Dayton Literary Peace Prize winners will also give talks.
"Bob Shacochis will be talking about his sweeping 2014 novel 'The Woman Who Lost Her Soul,' and 2014 nonfiction winner Karima Bennoune will be talking about her comprehensive account of Muslim fundamentalism, 'Your Fatwa Does Not Apply Here,'" Strombeck said.
Harmony in the Heartland concert
Wright State's School of Music will celebrate Dayton's peace heritage with the popular Harmony in the Heartland concert Oct. 25.
The concert includes performances by Wright State's nationally recognized choirs, the Collegiate Chorale and Chamber Orchestra, and instrumental ensembles.
Harmony in the Heartland was formerly the annual Holidays in the Heartland concert.
Tickets are $12 and available at Ticket Center Stage at 937-228-3630 or ticketcenterstage.com.