Wright State University launched a new design to its homepage and undergraduate admissions websites focused on attracting and assisting potential incoming students.
The new website features a clean design, improved navigation and an emphasis on telling the stories of Wright State students, alumni, faculty and staff. The site's colors and fonts are consistent with print and other marketing materials.
It is also designed for improved mobile responsiveness or ease of use across devices, from desktop monitors to smartphones — something that's becoming even more important since the website's previous design was first introduced in 2011.
All areas of the website are mobile responsive, said Mark Anderson, director of web development and strategy. "We've made sure it looks nice and behaves well on all devices," he said.
The Office of Marketing web team has worked on the redesign for a year, involving Wright State colleges, departments and units, the Division of Enrollment Management, the administration and students in the process.
In addition to Anderson, the website design project involved Chase Cathcart, web programmer; Amanda Earnest, web developer designer; Jesse Gifford, web programmer; Nate Jorgensen, web content specialist; Cassie McKinney, web content specialist; and Kyle O'Brien, web developer designer.
The new homepage and undergraduate admissions webpages offer an improved user experience for prospective students. Content, images, graphics and navigation have all been selected with potential incoming students in mind. For instance, content on the main admissions webpage is now organized by audience, making it easier for visitors to find the information they are looking for.
Undergraduate admissions webpages were redesigned and built to match the university's new customer relationship management (CRM) system, a streamlined admissions process that includes a single application for all programs except the M.D. degree. The new system also features an admissions portal that will serve as a central information point for prospective students.
The CRM system will help Wright State communicate and assist prospective students from the first time they contact the university to the day they begin taking classes.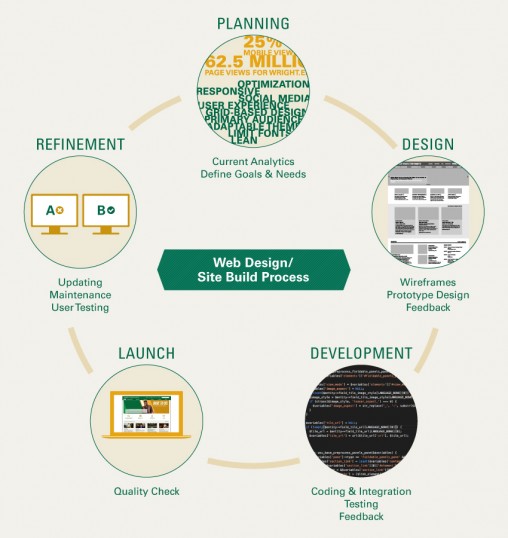 With the CRM in place, analytics will track emails and other marketing efforts, as well as the website's performance. This process will drive further iterations of the site and refine the admissions process.
"The first interaction prospective students often have with us is our website or our advertising so we want to tie all that together so it's seamless through the entire process," Anderson said.
Now that the homepage and undergraduate admissions pages have been refreshed, the web team will begin working with colleges and departments to update their websites, having moved all colleges and most departments into the Drupal content management system over the last four years.
"This is the kickoff to a whole new refresh again," Anderson said.
Work will also continue to regularly improve and add new elements to university webpages over time. "Everything we do is incremental," Anderson said. "It keeps changing, and that's what keeps happening. Iterative changes are always happening on the web."
The new design also features an emphasis of storytelling. Telling the stories of Wright State community members is one way to distinguish the university from other schools.
"We're telling how students are successful, we're telling how alumni are successful, why a student might want to come here, what they can get involved with," McKinney said. "We're trying to appeal to prospective students, and that's a big way we're doing it."
In recent years, marketing on the web has evolved toward storytelling, as opposed to catchy slogans. "We wanted to reflect that authenticity in this design," Jorgensen said.
Other changes to the website include an expanded footer, social media feeds and the use of more graphics and photos. "Photos and icons are ways of storytelling," Cathcart said.
Although the A-Z Index page remains part of the website, Anderson encourages website visitors to use the search feature when looking for information, instead of the directory.
"The more we use search the better search gets," he said.
Jorgensen said cooperation and involvement of website administrators across campus help make the Wright State website an effective project.
"A reason a redesign like this works — and a reason our system as a whole works — is we have colleges and departments that work very well with us and each other to streamline their information and to make the user experience consistent across colleges, across departments so people are getting the information they want where they think it should be," he said.
Now that the new site is live, the web team will conduct usability testing with potential incoming students who go on campus tours.