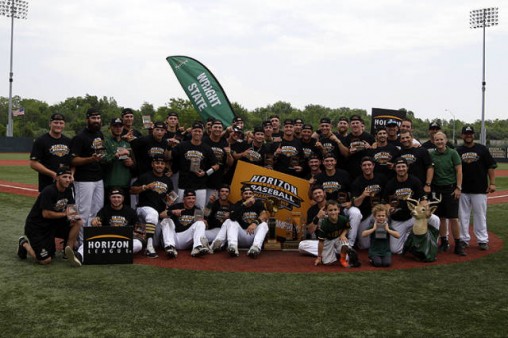 The Wright State baseball team is headed to Louisville, Kentucky, for the NCAA Regionals and will take on Ohio State in its opening game on Friday, June 3, at 2 p.m. at Jim Patterson Field at the University of Louisville.
The Raiders (44-15) are making their second straight appearance in the regionals, sixth in Division I and 13th NCAA appearance overall in program history. Wright State is also the #3 seed for the second consecutive year.
Wright State secured a spot in the NCAA baseball tournament by winning the Horizon League tournament.
Wright State and Ohio State are joined by regional No. 1 seed Louisville (47-12) and No. 4 seed Western Michigan (22-32), who will play on Friday at 6. The Raiders are 8-6 all-time against the Cardinals, including a 9-1 Louisville win on March 16, and are 1-0 versus Western Michigan, with the lone meeting being an 8-2 Raider home win on May 9, 2003.
In 2015, Wright State was the runner-up at the Champaign Regional. The Raiders dropped a 13-7 decision to Notre Dame in the opening game before eliminating Ohio 8-3 and Notre Dame 4-0 to advance to the finals. WSU then fell to host Illinois 8-4 in the finals.
In its first Division I regional appearance, Wright State went 1-2 in 1994 in Knoxville, Tennessee, defeating North Carolina State 14-12 before falling to Arizona State 7-4 and North Carolina State 10-6. In 2006 in Corvallis, Oregon, the Raiders dropped a 5-3 decision to eventual national champion Oregon State and lost 5-3 to Oregon. In 2009 in Fort Worth, Texas, the Raiders fell 6-3 to TCU and 6-4 in 11 innings to Texas A&M while in 2011 in College Station, Texas, the Raiders fell 11-0 to Texas A&M and 13-0 to Arizona.
Ohio State (43-18-1) won four games in two days to claim the Big Ten Tournament title, winning over Michigan and then Michigan State twice before rallying from an early 4-0 deficit to defeat Iowa in the title game 8-7. Wright State and the Buckeyes have met 40 times previously, with OSU hosting a 22-17-1 advantage. The two teams, though, have not played each other since Ohio State won 13-4 in Columbus on April 21, 2004.
The two teams have four common opponents in 2016 in Toledo (OSU 2-0-1, Wright State 3-1), Xavier (OSU 1-0, Wright State 2-0), Cincinnati (OSU 1-0, Wright State 2-0) and Eastern Michigan (OSU 1-0, Wright State 2-0).
Ticket information for the regional tournament will be released soon.
The winner of the Louisville Regional will move on to a Super Regional next week against the winner of the Nashville Regional, which consists of Vanderbilt, Washington, UC Santa Barbara and Xavier. The Super Regional is a best two-of-three format with the winner advancing to the eight-team College World Series, scheduled for June 18-29 in Omaha, Nebraska.
2016 NCAA Baseball Louisville Regional Schedule:
Friday, June 3 | (ESPN3)
Game 1: #2 Ohio State vs. #3 Wright State – 2 p.m.
Game 2: #1 Louisville vs. #4 Western Michigan – 6 p.m.
Saturday, June 4 | (ESPN3)
Game 3: Game 1 Loser vs. Game 2 Loser – Noon
Game 4: Game 1 Winner vs. Game 2 Winner – 4 p.m.
Sunday, June 5 | (ESPN3)
Game 5: Game 3 Winner vs. Game 4 Loser – Noon
Game 6: Game 5 Winner vs. Game 4 Winner – 4 p.m.
Monday, June 6 | (ESPN3) – If necessary
Game 7: Game 6 Loser vs. Game 6 Winner – 4 p.m.