His book on the history of beards has made a big splash in the media. But the highlight for Wright State University's Christopher Oldstone-Moore may have come when a crew from "CBS Sunday Morning" appeared on his campus doorstep.
The senior lecturer and researcher in the university's Department of History spent several hours June 13 being interviewed by a correspondent and producer of the show.
"I think there is a general perception that there is a story here because people see more beards and they're asking questions why," said Oldstone-Moore. "It's interesting to be connected to larger media and be part of something that you watch on TV, to know how it works and be part of it. That's great."
Oldstone-Moore, who got his master's degree and doctorate in British history from the University of Chicago, spent more than 10 years researching and chronicling the ebb and flow of facial hair — from Mesopotamia to the 2013 Boston Red Sox.
His book — "Of Beards and Men: The Revealing History of Facial Hair" — grew out of his teaching and his desire to make his classes interesting, visual and include cultural history — literature, music and art.
Since the book was published, Oldstone-Moore has been interviewed by National Public Radio, BBC Radio, CBC (Canadian television), The Wall Street Journal, The New York Times, The Toronto Star and Esquire magazine. Excerpts of his book have appeared in Harper's Magazine, The Atlantic and New Republic.
"It's an incredibly interesting book," said Anthony Laudato, producer of "CBS Sunday Morning." "Oftentimes, journalists, cultural commentators haven't really taken beards very seriously. You'll see trend pieces or fashion pieces about men with beards. It was amazing to read the book and see Professor Oldstone-Moore really take beards seriously and dive in to the history of how men have worn their hair and really find significance in it."
"CBS Sunday Morning" correspondent Luke Burbank added that the book takes the long view of beards and adds depth to the segment.
"He is really clear in the book, saying beards coming and beards going is not something about fashion," said Burbank. "It's always been a statement about what the society thought of masculinity and how masculinity was being presented."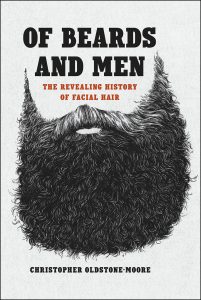 "CBS Sunday Morning," a 90-minute television newsmagazine that first aired in 1979, heavily covers the arts, including architecture, painting, ballet, opera and classical music. But the show, which airs on Sundays from 9 to 10:30 a.m. Eastern time, also features cultural trends.
Laudato said "CBS Sunday Morning" wanted to do a segment on how beards are having a "cultural moment" in the United States. The idea may have been propelled in part by interest in David Letterman's bushy white beard, which he grew after leaving his late-night talk show. Research on beards quickly revealed Oldstone-Moore's book.
"We've really crisscrossed the country for this piece about beards," said Burbank.
The crew went to a synagogue in Los Angeles to film Hasadic Jews who refrain from cutting their beards. Crew members also found themselves in the bathroom of a house in El Paso, Texas, to film a man daubing his beard with oils as part of a regular ritual.
And they traveled to Fullerton, California, to interview members of the Bearded Villains, an international brotherhood of bearded men dedicated to the betterment of society.
"I'll admit that when we got to the shoot in Fullerton, California, and there were 30, 40, 50 of these large guys with large beards throwing back large beers in this bar, I was kind of like 'This is an intense situation,'" recalled Burbank. "Then we started talking to them and they couldn't be nicer."
Burbank and Laudato spent several hours at Wright State interviewing and filming Oldstone-Moore in Millett Hall and the Dunbar Library. Setting up the equipment alone took two hours, evidenced by the lights, tripods and silver camera cases that lined the Millett Hall hallway. Inside room 238, Oldstone-Moore was seated in front of a blinding bank of television lights hung from booms.
In the end, Oldstone-Moore will likely only be featured for two minutes of the five- to six-minute segment. But his role is key.
"'Of Beards and Men' is the glue that binds these disparate elements in our story all together," said Laudato.