The Wright State University Boonshoft School of Medicine will welcome 108 students during a special ceremony on Sunday, July 17, formally marking the start of their medical education. The annual Convocation and White Coat Ceremony will be held at 2 p.m. in the Schuster Performing Arts Center in downtown Dayton.
During the ceremony students will take their first oath of professional medical ethics, concluding with the words, "I commit myself to a lifelong journey of learning how to cure, relieve and comfort with humility and compassion." Each student also will receive a white coat — a traditional symbol of the medical profession — personalized with his or her name and the medical school patch.
This is the fourth year that each student also will receive a stethoscope engraved with the words "Excel in Leaving a Mark," thanks to the Jason Madachy Foundation, alumni and friends. The foundation has given thousands of stethoscopes to medical students nationwide in honor of Jason Madachy, who died tragically in June 2007 just before he was about to start medical school.
The Convocation and White Coat Ceremony represents an important milestone in each student's journey to enter the medical profession. It also marks the first time these students will gather as a class and meet the people who will share, during the next four or more years, what may be some of the most memorable and intense experiences of their lives.
The students, who were carefully selected from a group of more than 5,234 applicants, will begin orientation on Friday, July 15. Classes will soon follow.
The class of 2020 draws from a variety of undergraduate experiences. Educated at various universities across Ohio, including Case Western Reserve University, Denison University, Miami University, Ohio State University, Wittenberg University and Wright State University, among others, members of the class also hail from The Citadel, Cornell University, Harvard University, Morehouse College, Spelman College and Wake Forest University, among others.
In addition to Ohio, the class of 2020 comes from as far away as Alaska, California, Connecticut, Florida and Texas.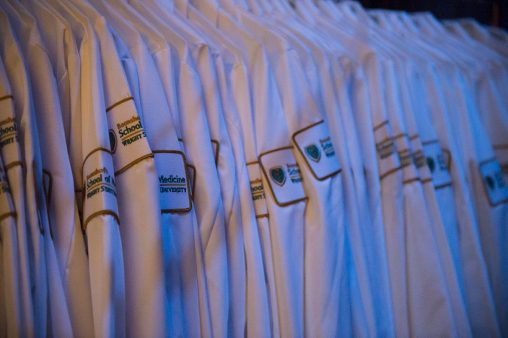 Fifty-seven percent are women, while 43 percent are men. Twenty-one percent are from groups under-represented in medicine. Seventy-five percent speak more than one language, including Arabic, Chinese, French and Spanish.
From volunteering at homeless shelters to serving as fire fighters and EMT/paramedics, they have shown a strong commitment to community service. Several have taken service trips. Others have volunteered with blood drives, food banks and music therapy programs. Some have been volunteers with the American Red Cross, Big Brothers Big Sisters, Habitat for Humanity, Relay for Life, Ronald McDonald House and Special Olympics.
Three members of the class of 2020 obtained the rank of Eagle Scout, the highest achievement in Boy Scouts of America. Six of the incoming medical students have served in the military.
The speaker at this year's Convocation and White Coat Ceremony is Melissa Roelle, M.D., assistant professor of surgery with the Boonshoft School of Medicine. Since 2013, she has directed the school's general surgery clerkship.
Roelle, a general surgeon who specializes in breast disease, also serves as the medical director of the High Risk Breast Cancer Center at Miami Valley Hospital South. She is a fellow of the American College of Surgeons and a 2013 recipient of the Miami Valley Hospital Physician Excellence Award. A lifelong resident of the Dayton area, Roelle is a graduate of the Boonshoft School of Medicine and Miami University.