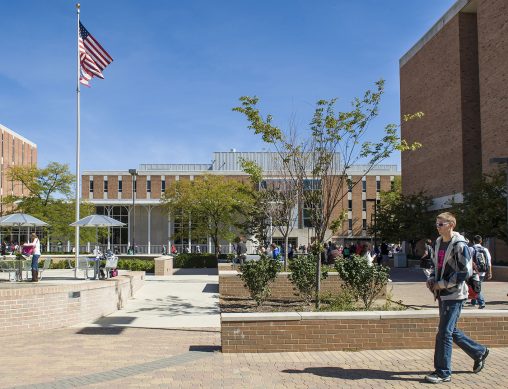 Although Wright State University will no longer host the first presidential debate on Sept. 26, a group of Wright State students will still be in the audience and see the candidates face off in person. Wright State decided not to host the presidential debate, citing mounting costs and security concerns.
Hofstra University, which will now host the debate, has invited 15 Wright State students to attend the presidential debate on its campus in Hempstead, New York. The offer was made by Hofstra President Stuart Rabinowitz, who contacted Wright State President David R. Hopkins.
"That is awesome! A bright spot in an otherwise disappointing situation," said Karen Ragan, who is pursuing a Master of Education and Intervention Specialist licensure.
"We are humbled by the generosity of Hofstra University," said Lukas Wenrick, president of Wright State's Student Government Association. "Their willingness to allow our Raider community to participate within this event showcases a dedication to civic engagement unprecedented in our time."
Names of participants will be drawn on July 26 from all the Wright State students who have already applied for the debate ticket lottery or to volunteer. More than 1,840 students applied for the ticket lottery and 630 wanted to volunteer.
"Though we had to withdraw as a host institution, Wright State Raiders will continue to participate in the political discussions that will shape the national agenda," said Nathan Balasubramanian, Student Government's chief policy officer and a cyber security and student affairs graduate student.
"I would like to thank Hofstra University for offering a place for Wright State," he added.
Student Affairs personnel at Wright State are working on travel arrangements for the 15 students. Hotel, food and airline expenses will be paid by donors who still want to support the debate experience of Wright State students.