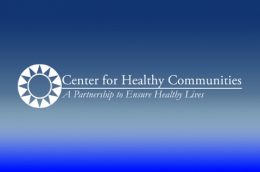 The Wright State University Boonshoft School of Medicine Center for Healthy Communities announced the 2016 recipients of its annual Health Promotion Program Awards at the Center for Healthy Communities Advisory Board annual meeting on July 13.
Since 1997, the Center for Healthy Communities has presented the Health Promotion Program Awards to recognize community-based programs that address health promotion and disease prevention in the greater Dayton area. To be eligible for the award, programs must have been developed and implemented by two or more organizations and involve the collaboration of two or more groups or organizations. Awards were given this year for an established program, a new program and special recognition.
CARE House, in collaboration with Dayton Children's Hospital, Montgomery County Office of Human Services Planning and Development, Ohio Children's Trust Fund and Darkness to Light of South Carolina, was recognized with the established program award for its implementation of the Stewards of Children curriculum, which teaches adults to prevent, recognize and react responsibly to child sexual abuse.
Darkness to Light, the nonprofit organization that continues to develop Stewards of Children, selected CARE House to pilot the curriculum in the fall of 2004. CARE House is a children's advocacy center that offers support and hope to children and families in the community, serving hundreds of victims of child abuse each year. Since 2004, CARE House has facilitated almost 575 Stewards of Children trainings for more than 9,000 adults. Through its child sexual abuse prevention efforts, CARE House will continue to create change in the community.
Dayton Public Schools, in collaboration with Public Health – Dayton and Montgomery County, Community Health Centers of Greater Dayton, Children's Health Clinic, Dayton Children's Hospital, Five Rivers Health Center, American Lung Association, Schear Family Practice, Cedarville University and Dayton Public Schools administrators and school nurses, was recognized for a new program, comprehensive asthma management.
The Dayton Public Schools comprehensive asthma management program was created to provide improved collaboration between the school, family and health care providers with the goal of improving school attendance and health outcomes of students with asthma. Participating students with asthma learned about trigger avoidance and the correct use of rescue and control medications. School staff were educated and trained to respond to a breathing emergency. Through the Dayton Asthma Alliance, Dayton Public Schools and Dayton Children's Hospital have provided parents with education and resources to support children with asthma in the home.
Premier Community Health and the Levin Family Foundation were awarded the special recognition award for the annual Celebrating Life and Health Fair, the area's largest health-related event. Since 2006, the Levin Family Foundation has collaborated with Premier Community Health to provide free health services, including screenings and coaching for the under-privileged population in the greater Dayton area. The foundation hosts the Celebrating Life and Health Fair. The event offers a wide array of free health and support services to at-need populations to ensure their good health and identify potential health issues.
Following the annual event, health educators from Premier Community Health contact participants with critical screening values. They coach individuals about how to control their critical health numbers, including blood sugar, blood pressure, cholesterol and body weight. If the participant is interested in additional information or other health services, the health educator connects them to various resources. Collaborations under this partnership keep expanding. For the past two years, Premier Community Health has worked with the Wright State University Master of Public Health Program to obtain health coaches and volunteers for the health fair. Both Premier Community Health and the Levin Family Foundation will continue to expand services provided at the annual Celebrating Life and Health Fair to close the health disparities gap in the Dayton community.
The Wright State Center for Healthy Communities is a community-academic partnership committed to improving the health and well being of the community, educating its health professionals and serving as a force for change. The center is a program of the Center for Global Health in the Wright State Boonshoft School of Medicine Department of Population and Public Health Sciences.