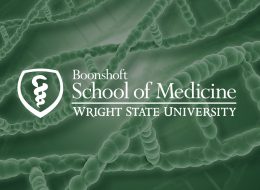 The Office of Naval Research awarded Wright State University researchers a $7.5 million, five-year Multidisciplinary University Research Initiative (MURI) grant to study precision medicine approaches to physical training.
The highly competitive Department of Defense MURI program supports research teams working in more than one traditional science or engineering discipline to accelerate breakthroughs in basic research.
The U.S. military relies on physical training to increase and maintain force readiness. Physical fitness impacts readiness, particularly during initial recruit and special operator training. Over training can also lead to performance degradation and injury. The Office of Naval Research has particular interest in understanding the individual response to training as it could allow high impact optimization of force readiness in warfighters from diverse backgrounds and physical abilities.
The Wright State-led project, titled "Precision High-Intensity Training Through Epigenetics" (PHITE), is focused on discovering epigenetic biomarkers that identify individuals who could benefit from high-intensity training as well as determining when individuals have reached peak performance.
The principal investigator for the team is Timothy Broderick, M.D., associate dean for research affairs at the Wright State Boonshoft School of Medicine and chief science officer at the Wright State Research Institute. The PHITE project includes a world-class team of researchers from Wright State University, the University of Alabama at Birmingham and the Salk Institute.
"Traits, such as height, exercise endurance and muscle strength, are inherited from our parents through genes," said Broderick. "But variation in the DNA sequence of sports genes explains significant difference in our athletic performance, but not all. The remaining variation is attributable to environmental factors, including gene-environment interactions."
Epigenetics — literally "upon genetics" — describes how environmental factors turn genes on and off, thereby changing traits. Epigenetics has become a very hot field in science. In January 2015, President Barack Obama announced the Precision Medicine Initiative, an emerging approach for disease treatment and prevention that takes into account individual variability in genes, environment and lifestyle.
"Epigenetics helps explain how exercise and nutritional supplements change the 'read out' of muscle genes. The DNA sequence does not change, but with proper training an athlete's muscles become larger and more powerful," Broderick said.
In the PHITE project, young male and female volunteers will participate in a 12-week training program. One group will receive traditional moderate intensity training, while the other group will receive high-intensity interval training. At the beginning and end of their training, each group will undergo extensive physical evaluation and epigenetic analysis of their blood to determine biomarkers of fitness.
"This research is exciting because it will help us understand how exercise alters cellular memory and metabolism at the molecular level," said Broderick. "Our work could significantly improve health and performance through a combination of tailored exercise and easy-to-obtain epigenetic biomarkers."