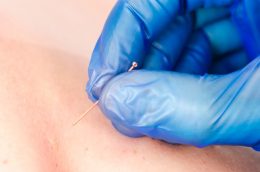 Wright State Physicians Orthopaedics will offer an educational session about dry needling, a technique used by physical therapists to treat myofascial pain or muscular pain.
The session, "Dry Needling: Break Into Pain," will be held Tuesday, Oct. 18, at 7 p.m., in classroom 1 on the second floor of the Wright State Physicians Health Center, 725 University Blvd., on the campus of Wright State University. The session is free and open to the public.
The speaker is Justin Lodge, D.P.T., a physical therapist with Wright State Physicians Physical Therapy. Lodge is a 2007 Wright State University graduate. He earned a doctorate in physical therapy from the University of Dayton in 2010. He uses hands-on manual techniques with an emphasis on patient-centered, evidence-based rehabilitation.
Lodge will talk about dry needling, an invasive procedure in which a solid filament needle is inserted into the skin and muscle directly at a myofascial trigger point or a sensitive point in the muscle. During the educational session, Lodge will describe a trigger point, discuss dry needling versus acupuncture and talk about conditions that can be treated by dry needling. He also will discuss chronic pain, breaking the pain cycle and other myofascial pain treatments.
Videos of past sessions may be viewed at wrightstatephysicians.org/ortho/video.
To register for the session, contact Jessica Shroyer at jessica.shroyer@wspi.org or 937-208-8307.
Wright State Physicians Inc. includes more than 180 physicians affiliated with the Wright State University Boonshoft School of Medicine. The group provides primary and specialty care in a wide range of specialized diagnostic and treatment services throughout the Dayton region.