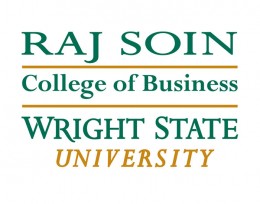 Wright State University's Raj Soin College of Business has been named among the best business schools in the nation by The Princeton Review, which cites the college's strong academics and ability to meet the needs of working students.
The college is included in the 2017 edition of the Review's "Best 294 Business Schools." Wright State scored 88 on a scale of 99 in overall academic experience and a 91 in the accessibility of professors.
The academic program at Wright State provides an in-depth, multidisciplinary understanding of business, while emphasizing ethics and sustainability and a global perspective. Students can choose a concentration in one of seven areas, including economics, finance, international business and project management to further specialize in their fields of interest.
The college has nine undergraduate majors in addition to its five graduate degrees. The Wright State MBA program offers courses in the evenings, on the weekends or online to accommodate the needs of working students. The weekend MBA program is held at two different campuses in the Dayton area to maximize convenience.
The college's Office of Career Management actively works with local companies to determine their staffing needs. The office hosts recruiting and networking events, as well as onsite interviews, and it provides personal career counseling.
The Princeton Review compiled the list based on school-reported data and on surveys with students attending the 294 business schools in the book. It is a privately held education services company headquartered in Framingham, Massachusetts, and is not affiliated with Princeton University.