You can learn more about Katharine Wright, Wilbur and Orville's sister, during a special program with author Harry Haskell.
Haskell will discuss his new book, "Maiden Flight" at 7 p.m. on Tuesday, Oct. 25, in the Wright State University Student Union Endeavour Room. The event is free and open to the public.
The program is presented by the Wright State University Libraries, the Special Collections and Archives and the Friends of the Libraries.
"Maiden Flight" is the fictionalized telling of the love story of Katharine Wright and Henry J. Haskell.
Written by Haskell's grandson and namesake, Harry Haskell, the novel is based on personal letters, newspaper reports and other documents of the period, including Katharine's lively and extraordinarily revealing love letters to Harry.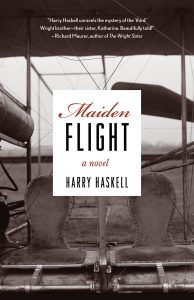 Cast in the form of three interwoven first-person "memoirs," the novel allows Wright to step outside of her famous brothers' shadow. Haskell sheds new light on the central role she played in their private lives, as well as on her often misunderstood contribution to her brothers' scientific work.
A special exhibit of Katharine Wright materials from the Wright Brothers Collection of Special Collections and Archives, and from the personal collection of Harry Haskell, will be on display at the event.