The Wright State community collected hundreds of toys and other items for children in Greene and Montgomery counties through the university's annual Holiday for Kids Christmas gift drive hosted by We Serve U.
Donated toys will be given to Greene County Children Services and The Toy Cottage, in association with Montgomery County Children Services and managed by For Love of Children (FLOC).
Greene County Children Services collected toys and other gifts donated by Wright State at the Van Cleve building Dec. 5. FLOC will collect toys Thursday, Dec. 8, at 2 p.m., also at the Van Cleve building.
Wright State has hosted annual toy drives for more than 20 years. This is the second year We Serve U has hosted the drive. This year, more than 800 gifts were donated, eclipsing last year's total of 750 gifts.
"We do this because we want to help needy families in our area," said Joanie Hendricks, data analyst for Institutional Research at Wright State and co-chair of We Serve U. "Helping to share the joy of the holidays with others makes us all feel good."
Many Wright State organizations and offices sponsored 30 families for Greene County Children Services. The agency provided Wright State with a list of families and their Christmas wish list. Individuals and groups chose to "adopt" a family and donate a few practical and enjoyable gifts.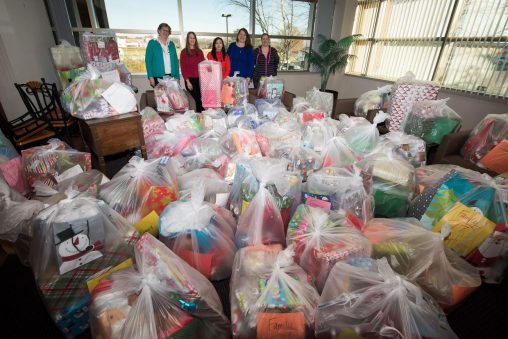 Last year, 26 families were "adopted" and 364 gifts were donated. Currently, 33 families have been sponsored and at least 728 gifts have been donated, with the numbers continuing to rise. Gifts include everything from kitchen tables and chairs to stockings filled with candy canes.
"I've personally noticed that these children not only need something to look forward to, it gets you in the spirit," said Ashley Dawes of the Greene County agency.
The gifts are delivered to the families' homes before Christmas. The deadline to give is Friday, Dec. 16.
"It's in the mission statement to help the communities that we serve," said Hendricks. "We are just shocked how generous the Wright State community is."
"It's always nice to give back, even if you don't have a ton of money," said Kim Sierschula, financial aid coordinator and a member of We Serve U. "There's always someone worse off than us."
Christmas for Kids is a program FLOC started in the 1980s and initially served about 35 children. This year, FLOC expects to distribute gifts to 2,300 children. Wright State currently has 450 gifts donated towards FLOC that were collected in nine barrels distributed around campus.
"The need out there in Dayton is great and we're so grateful that people like the wonderful faculty, staff and students at Wright State would step up and support the children," said Beth Mann, president of the board of FLOC. "You all do a tremendous job at Wright State."
She specifically mentioned Hendricks and Annette McCoy for their annual participation.
FLOC's The Toy Cottage holds hundreds of donated toys that parents, foster parents, family members or guardians of children in need can visit and select a gift for their children.
"The Toy Cottage is not just about providing holiday cheer to families, it's about giving these families support, respect and knowledge that the community cares. It's the meaning of Christmas in a heartbeat," said Mann. "I think one of the most valuable things people have to offer and give is their time. If you don't have the monies to make a donation, come on down and spend time with the children we are taking care of."
"There was a family one year taking care of a young woman who was severely ill. They expected it to be her last Christmas," Mann added. "Two young men, as in 8 and 9 years old, held her hand as she shopped. They radiated the gift of the season as the volunteers watching swallowed tears of heartbreak and of joy."
Gifts can be donated to FLOC through Saturday, Dec. 10, from 11:30 a.m. to 6 p.m. at the FLOC offices at 128 West First Street in Dayton.
Toy donations will also be collected at the Wright State men's basketball game Tuesday, Dec. 13, at the Nutter Center.
"We thank Wright State University so very much … for making Christmas a possibility for these children," Mann said.