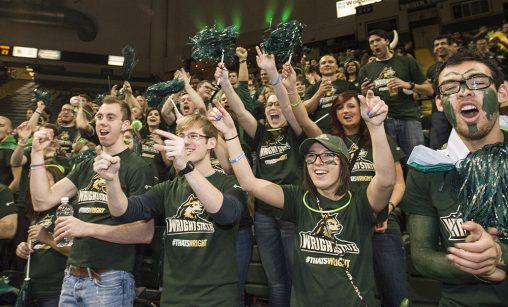 The Wright State Student Government Association encourages students to become involved in experiencing athletics in a personal way through the Rowdy Raiders Spirit Squad, which currently has over 200 members.
The spirit squad also provides many opportunities to meet new people and make new friends, said Victoria Carrier, chair of Student Government's school spirit committee.
"I came to Wright State so terrified of getting involved and fitting in," she said. "I didn't even know where to begin when it came to making new friends. A few weeks into school, I got the opportunity to build an organization based on spirit and Wright State pride."
The Rowdy Raiders were created as part of the Student Government Association's Freshman Internship Program with help from the Athletics Department. All students are invited to participate.
Carrier and Lukas Wenrick, president of Student Government, organized the spirit squad to provide students with an opportunity to enjoy a full game day experience.
"Spirit squad is a fun, carefree way of getting involved while attending our amazing school," said Carrier.
A freshmen committee, whose members include Julia Barrett, Kimberly Dove, Daniel Kehoe and Taylor Schuller, works with Carrier to plan the game day experience, external events, marketing and recruitment. Wright State pep rallies are in the works for future years.
"You will notice at all men's basketball games there is a 'student organization of the game,'" Wenrick said. "We are working to recognize as many students and student leaders as possible through this avenue. We will continue to offer more school spirit initiatives throughout the spring."
Students who join the Rowdy Raiders gain free perks such as meeting basketball players at outside events, watching basketball games in front-row seats and receiving exclusive deals and giveaways.
The Student Government Association is working to make the Rowdy Raiders a separate organization.
Additional sports will be included in the spirit squad event calendar in the 2017–18 academic year.
For more information contact victoria.carrier@wsusg.com.