A talk by Kelly Williams Brown, an advertising copywriter who has become a best-selling author and a life coach for Millennials, will highlight "Life After Wright State 2017," a series of events to support graduating students as they transition to alumni.
Brown will speak at Wright State on Wednesday, March 8, from 7 to 8 p.m. in the Student Union Apollo Room.
Brown's New York Times best-seller, "Adulting: How to Become a Grown-up in 468 Easy (ish) Steps," is designed to help 20-somethings navigate the slippery path to adulthood.
Brown, who lives in Portland, Oregon, has spoken at universities across the country, at NASA and was invited to the White House to facilitate a conversation about student loans with President Obama.
Brown's work has been featured on "The Today Show" and in The New York Times, Cosmopolitan, Vogue, Esquire, The Boston Globe, Fast Company and many more. Her TEDx Talk, "I'm a Millennial, and I am a Monster," was a TED.com editor's pick of the week.
Her talk at Wright State is part of a series of "Life After Wright State" social, educational and networking events sponsored by the Office of Alumni Relations and other campus partners.
All activities are free to graduating seniors and graduates of the previous summer and winter semesters: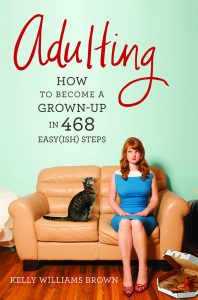 Wright State Canvas Painting and Wine Night: Wednesday, Feb. 22, Student Union Apollo Room, 7-9 p.m.
Kelly Williams Brown Talk: Wednesday, March 8, Student Union Apollo Room, 7-8 p.m.
Student and Alumni Speed Networking: Tuesday, March 28, Student Union Endeavour Room, 7-9 p.m.
Class of 2017 Senior Picnic: Thursday, April 13, Alumni Grove, 11 a.m. to 1 p.m.
Mud Volleyball Tournament: Friday, April 21, Campus Recreation Park, 3:30 p.m.
Finals Week Happy Hour: Tuesday, April 25, Fox and Hound Pub
President Hopkins Champagne Toast: Thursday, April 27, Student Union Atrium