Wright State students created handmade posters with positive, affirming messages to use when controversial visitors come to campus.
Many students on campus have voiced concern about comments of off-campus visitors who have become confrontational. The Division of Student Affairs' Student Advisory Board gathered students to create posters they can use as a form of peaceful protesting.
"Many of the comments are condemning and marginalizing, but the student leaders want to counter that with messages of positivity and inclusion," said Patricia Schiml, professor of psychology and co-chair of the Allies Organization and the Wright State Bias Incident Response Team.
Students, staff and faculty are becoming advocates for the university's values of inclusion and diversity through the outreach.
Brittany Williams, a member of the Student Affairs Student Advisory Board, said she wants to remind students that they have the power to control their environment.
"We have certain guests who come on to campus and disturb the peace, said Williams, who is also a member of Student Government Association and director of education affairs for the Black Student Union. "This is a reminder to students that we are to be empowered and we control the climate on campus. These people who come every year are temporary, but we are the longstanding people that have a say in what happens here."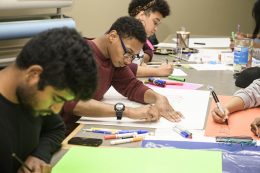 "I believe this act of 'advocacy' will model how we can positively impact outcomes versus needing to endure an anticipated negative process," said LaTrelle Jackson, associate professor in the School of Professional Psychology and interim associate vice president for student affairs. "We have a choice in how we respond. We choose to reframe this as a learning and advocacy opportunity."
Some students said the posters are a method to replace feeling defensive. Students "need a little bit of happiness. And I feel like being defensive … is not constructive," said Dominique McPhaul, a member of the Student Advisory Board.
For more information about the Student Advisory Board contact Vanessa Borelly Vega at vanessa.borellyvega@wright.edu.
More information about the Bias Incident Response Team is available at wright.edu/student-affairs/student-resources/bias-related-incident-reporting.