The Wright State University Boonshoft School of Medicine's 12th Annual Global Health Initiative Symposium and Dinner will be held Thursday, April 13, at 7 p.m., in the Berry Room of the Wright State University Nutter Center.
A buffet dinner will be served, followed by a silent auction to raise funds for medical students participating in the Boonshoft School of Medicine International Education Program.
The theme for this year's Global Health Initiative Symposium and Dinner is "The New American Patient." The annual event brings distinguished speakers to share their perspectives on international health issues and raises funds to assist medical students in traveling to underdeveloped countries.
Most of the money raised goes to fourth-year students in the medical school's International Education Program, who are required to complete a rotation abroad. Participation in national and international medical aid, research and cultural experiences helps these future doctors gain a better understanding of the global nature of medicine and public health.
The guest speaker will be Kate Conway, M.D., assistant professor and director of medical education in the Department of Family Medicine at the Boonshoft School of Medicine.
Before joining the faculty of the medical school in 2014, Conway was the director of a refugee health program at a Federally Qualified Health Community Center. She also was the medical director of a start-up clinic specializing in treating refugee and immigrant populations. She has seen firsthand how refugees' health can be affected by not having a job or having to overcome the language barrier. Throughout her career, she has traveled extensively to work on community health outreach programs. These experiences have made her a champion of global health efforts and refugee medicine.
Conway earned her undergraduate degree at the University of Dayton and her medical degree from the Wright State University Boonshoft School of Medicine. She completed a Master of Public Health degree through Case Western Reserve University and her residency in family medicine at University Hospitals Case Medical Center.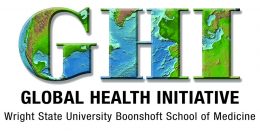 First-year medical students at the Boonshoft School of Medicine founded the Global Health Initiative in 2000. The initiative's mission is to enhance the education of Wright State medical students by facilitating their exposure to both the medical issues facing people in other countries and the medical issues of people in this country who have emigrated from other countries and, in so doing, inspire greater compassion, social justice and empathy within the university's future physicians.
The cost is $30 for general admission and $15 for Boonshoft School of Medicine students. For more information, contact Delores James at delores.james@wright.edu or 937-245-7623.
To register for the event, go to medicine.wright.edu/ghi-symposium.
The Wright State University Boonshoft School of Medicine is a community-based medical school affiliated with seven major teaching hospitals in the Dayton area. The medical school educates the next generation of physicians by providing medical education for more than 444 medical students and 443 residents and fellows in 13 specialty areas and 10 subspecialties. Its research enterprise encompasses centers in the basic sciences, epidemiology, public health and community outreach programs. More than 1,500 of the medical school's 3,229 alumni remain in medical practice in Ohio.