With glamour and historical cultural events, Wright State alumna Lara Donnelly has crafted a thrilling spy adventure with characters competing against old-fashioned expectations within an anachronistic and fantasy genre.
"I had an idea for a scene while on a road trip in Ireland," said Donnelly. "That scene began to mesh with my love of theater and performance, and over the next couple of years I patched together a story that brought a lot of disparate passions together: swing dance, Cabaret, theater, travel, espionage, fashion; there's a lot that went into this book."
Donnelly's debut novel, "Amberlough," was published by Tor in February. Donnelly plans to write two sequels to "Amberlough" for Tor.
In the book, she challenges readers' views of the past and how stereotypes are often created in doing so.
"'Amberlough" "draws heavily on the culture and climate of Berlin in the early 1930s, with some interbellum England and a little bit of F. Scott Fitzgerald's Paris and New York City thrown in," Donnelly said in an article for the Tor/Forge blog. "I made my novel a playground where I could put characters in impeccable evening dress without rules for who wears a gown and who wears tails, where the color of a character's skin doesn't imply the conclusions we might jump to because this history is not ours."
Donnelly graduated from Wright State in 2012 with a bachelor's degree in English, with a concentration in creative writing, and a minor in women's studies.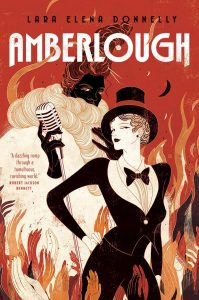 Her passion for storytelling further blossomed after attending the Alpha Science Fiction, Fantasy and Horror Workshop for Young Writers, when she chose to further her interest in writing instead of attending art school.
Donnelly grew up in Yellow Springs, where she was active in theater and the arts, elements that dip into her novel. She hopes readers will connect with a character from her book and are entertained with a rich story.
"As a reader, I love to read stories about experiences that are new to me," she said. "Homogeneity is boring at best and in the worst case, it's dangerous. The greatest power of story, I think, is to inspire empathy."
For more information about Donnelly and "Amberlough" visit laradonnelly.com.