William (Bill) A. Holmes III, executive director of international affairs at Central Michigan University, has been named associate vice president for international affairs at Wright State University. Holmes will join Wright State Aug. 14.
"Bill is experienced in working with faculty, staff and students in developing campus-wide internalization plans that include international student recruitment, increasing study abroad opportunities, establishing relationships with international institutions and incorporating a global perspective into the curriculum," said Wright State Provost Thomas Sudkamp.
Under Holmes' leadership, Central Michigan increased study abroad participation by 5 percent a year, including an increase in minority student participation; created an in-house recruiting unit, along with a network of consulting, marketing and alumni support, to increase the awareness of the university abroad; and participated in the ACE Internationalization Laboratory to catalog and assess current international activities to prepare for institutional strategic planning.
Prior to joining Central Michigan, Holmes served as director of international education at Eastern Kentucky University, director of international relations for CAPA International Education and director of international education at Campbellsville University. He also served as a Peace Corps volunteer in Ukraine.
Holmes is the co-author of "Faculty-Led 360: Guide to Successful Study Abroad" and has delivered over 30 presentations and workshops for faculty and staff in state, regional, national and international venues.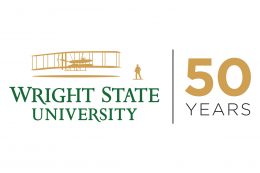 Holmes obtained his bachelor's degree in history from Miami University, his master's degree in international studies from the University of Wyoming and is working toward a doctorate in education leadership and policy studies at Eastern Kentucky University.
Wright State became an independent institution in 1967 and spent the next 50 years growing into an innovative leader in international education. In 2017, it celebrates its 50th anniversary as an independent public university, culminating with a special Homecoming celebration Sept. 29 through Oct. 1.