Robert Oelman, Stanley Allyn and Fred White became pioneers of potential when they broke ground on Wright State University's first building, Allyn Hall.
Fifty years later, thousands of students follow these founders' footsteps, as well as the footsteps of so many others who shaped the university to become the pioneer of potential it is today.
Allyn Hall was the only building on Wright State's campus for three years, so it hosted every program the university offered. Today, Allyn Hall houses the College of Education and Human Services as well as the Veteran and Military Center and the Hangar.
In its first years, Wright State was an extension of Miami University and The Ohio State University. Students enrolled in general college, which is similar to today's University College, and provided core classes to freshmen and sophomores. Once students became juniors, they enrolled either in the College of Science and Engineering, provided by Ohio State, or the College of Business Administration, Education or Liberal Arts, operated by Miami.
Also on the campus were the Dayton Academic Center of Miami and the Graduate Center of The Ohio State University. These graduate programs previously existed separately in Dayton, but under an agreement the two programs combined into a jointly run campus.
Although Wright State opened as an extension of other universities, it was expected that it would become its own independent university once 5,000 full-time students enrolled. In 1965, when enrollment goals were reached, the Dayton Campus of Miami University and The Ohio State University became the Wright State Campus of Miami University and The Ohio State University. In 1967, it was renamed Wright State University when it achieved independent status.
Brage Golding, the first university president, was appointed in 1966. Golding was known as an innovator with an entrepreneurial spirit. During his tenure as president, the university expanded to include an impressive library, a student center with adjacent student housing, a gymnasium and a creative arts center, which was funded through a $14 million appropriation from the Ohio General Assembly that was the campus' largest physical expansion in 20 years. Enrollment while Golding was president grew to 11,000 students.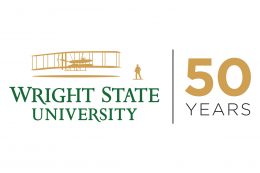 In 1968, the Western Ohio Education Foundation opened in Celina. The campus aligned itself with Wright State in 1969, renaming itself the Wright State University-Western Ohio Branch Campus. Today, it is known as the Lake Campus.
Wright State celebrates its 50th anniversary as an independent public university in 2017, culminating with a special Homecoming celebration Sept. 29 through Oct. 1.