One by one, two sisters and their cousin realized they shared the same passion for psychology with each focusing on different fields at Wright State University.
Alexandra Augustine grew up in Arizona and moved to Enon, Ohio, where her cousins, Katelyn and Kristen Clevenger live.
Through different circumstances they each found themselves pursuing a major in psychology. Augustine, a senior, is studying clinical psychology and wants to work with children and mental illness.
Katelyn Clevenger, a first-generation college student, graduated in the fall of 2016 and is open to a variety of opportunities in the field.
Her younger sister Kristen, also a senior, is studying clinical psychology and plans to work with children or the elderly.
Augustine was a high school valedictorian, earning a full ride to Wright State. She originally wanted to pursue an arts degree, but realized she wanted to help people through psychology. She volunteers with 4 Paws for Ability and interns at Greene County Visitation Center. She is a member of Wright State's psychology honor society Psichi, for maintaining a 4.0 GPA.
"I think mental illness is overlooked and stigmatized in our society right now," she said. "So I think helping people with treatment and awareness is really important."
Katelyn Clevenger was interested in children's psychology but has since shifted her focus.
"I just like the satisfaction of being able to help someone," she said. "I don't know what I want to do, but I know it's helping someone, whether children or adults."
Kristen Clevenger chose Wright State for the cognitive models that the School of Professional Psychology uses when researching and teaching psychology. She works as a state-tested nursing assistant at the Springfield Masonic Community, helping people with Alzheimer's. She would like to work with the elderly and help them cope with aging during the final stages of their lives.
"I was told that schools focus on different models and Wright State's model works on cognitive therapy," she said. "I don't like the process of medicating and moving forward because I don't think that fixes the problem."
She was impacted by psychology professor Robert Gordon's courses and changed her psychology focus from divorce counseling to children and the elderly.
Augustine and Kristen Clevenger share a psychology course. The sisters and their cousin often discuss psychology and jokingly attempt to diagnose their friends and family members.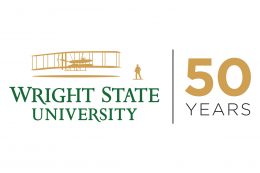 "We were in class hearing a lesson on personality disorders, and we sat there and thought, we might know people like this," Clevenger said. "It becomes hard not to analyze people."
"Once you learn a lot you start to see it more around you," Augustine said. "You even look at people and the world around you and see it in a different way. It's nice to have people who know what you're talking about."
Wright State became an independent institution in 1967 and spent the next 50 years growing into an innovative leader in affordable and accessible education. In 2017, it celebrates its 50th anniversary and sets the course for the next half century.