Raiders can learn about opportunities to give back to the community at the We Serve U Volunteer Fair on Tuesday, Sept. 12, from 11 a.m. to 1 p.m. in the Student Union Atrium.
The sixth annual fair will host 28 nonprofit organizations for which Wright State students can volunteer.
Hosted by Wright State's We Serve U, the event encourages students to volunteer for local organizations throughout Raider Country. Representatives from organizations such as Habitat for Humanity, Hannah's Treasure Chest, Homefull and a Special Wish will attend, as well as Wright State organizations such as the Friendship Food Pantry, Student Government Association and the Center for Service-learning and Civic Engagement.
"This is our biggest event of the year," said Joanie Hendricks, We Serve U co-chair.
Several organizations are working on relief for those suffering from the effects of Hurricanes Harvey and Irma. For example, Crayons to Classrooms works with the Kids in Need Foundation National network of Teacher Resource Centers. Its Second Responder Program provides school supplies to students and teachers following natural disasters.
Each organization will have a table where attendees can stop by to learn more about volunteer opportunities.
"We feel that the Volunteer Fair provides Wright State students, staff and faculty with an opportunity to learn about the organizations that mean the most to them. Many people want to volunteer but don't know where to start," Hendricks said. "The Volunteer Fair is also a fantastic resource for students who may need to complete service hours for a class, scholarship or organizational requirement."
In addition to the Volunteer Fair, We Serve U will host a Cards for Kids event on Nov. 1 in the Educational Resource Center in Allyn Hall. From 11 a.m. to 1 p.m., students can make holiday or get-well cards for children who are patients at Dayton Children's Hospital.
"Everyone is welcome to stop by and join," Hendricks said.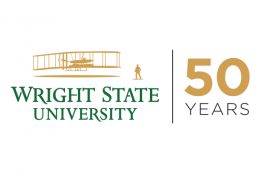 Other projects hosted by We Serve U include a hydration station at the Air Force 5k, which is runs through the Wright State campus, and the 50 acts of kindness project, which encourages students to do 50 kind acts in 2017 to celebrate Wright State's 50th anniversary.
Wright State became an independent institution in 1967 and spent the next 50 years growing into an innovative leader in community service. In 2017, it celebrates its 50th anniversary as an independent public university, culminating with a special Homecoming celebration Sept. 29 through Oct. 1.