They were the Fish sisters — Gerry, Kathy, Betsy, Sue. And anyone who attended Wright State in the university's early days likely knew at least one of them.
The Fishes cut a high profile when they were at Wright State in the 1970s and were heavily involved in campus activities.
The house they rented on Colonel Glenn Highway near the university became a magnet for fellow students.
The sisters' spaghetti dinners would draw the Wright State soccer team. Renowned artist Bing Davis once showed up bearing large institutional-sized cans of corn and beans. Groups of students were always there studying for exams.
"We made a choice that we were going to be involved, and because of that we had opportunities to meet people and opportunities opened to us," said Betsy (Fish) Brown, of Centerville. "If the Fish girls ever needed anything, you would have faculty, staff, anybody would help us."
The Fish sisters would go on to graduate and make their mark in the world. But tragically, Gerry died in 2004 at age 55 after battling a rare form of cancer.
So her three sisters have established the Fish Sisters Legacy Scholarship dedicated to Gerry as part of a Wright State University Alumni Association endowment program.
Those in the immediate family of Wright State alumni — spouse, child, legal dependent, stepchild or grandchild — may apply to the endowment for tuition assistance.
"It was important for us to leave our footprint from a legacy standpoint," said Brown. "So whenever there is a chance to give back to the university — because it gave us so much — we want to give back to the university."
Wright State certainly played a big part in the college lives of the Fish sisters.
They were all in the same sorority — Kappa Delta Chi. Kathy, Betsy and Sue were cheerleaders for the Wright State soccer and basketball teams. They would later become basketball season ticketholders and over the years sit together at the games.
"Our kids grew up coming to Wright State basketball games," said Sue (Fish) Ayers, of Sugarcreek Township.
All of the Fish sisters worked their way through school. They shared a 1965 Plymouth Valiant, a car kept running by a student military veteran who had maintained jet engines in the service.
"We grew up with this campus," said Brown. "It's like Wright State is in our blood."
Gerry, who majored in sociology, worked at JCPenney. After graduating in 1972, she took a job with the International Red Cross, working on U.S. military bases. She later worked for Day-Mont West, a nonprofit that provides behavioral health care services.
Kathy (Fish) Arquilla, of Kettering, said Gerry had a big heart and especially loved working with the elderly.
"She got along with everybody," said Arquilla. "She was probably one of the nicest people you would ever know."
"She was one of those people that was funny and didn't realize it," added Ayers. "She made everybody smile."
Ayers, who majored in art education, worked while she was at Wright State for the City of Dayton's recreation department, then for the university's Department of Economics and finally as the associate ombudsman. She graduated in 1975 and later got a job with Dayton Public Schools teaching art.
Arquilla, who majored in sociology, worked in college at the S. S. Kresge Co., doing payroll and invoicing. After graduating in 1973, she took a job with Dayton Public Schools working with students with learning disabilities.
Brown, who worked at University Publications while at Wright State, got her bachelor's degree in rehabilitation education and her master's in personnel counseling.
After graduating, she worked in the mental health field doing family counseling and then launched a career working in human resources for businesses. She served as HR director at The Reynolds and Reynolds Co. and is currently an adjunct instructor at Wright State, teaching HR classes.
The sisters, who are lifetime members of the Wright State University Alumni Association, said establishing the scholarship in their sister's name is a way for them to give back to the university that touched them deeply.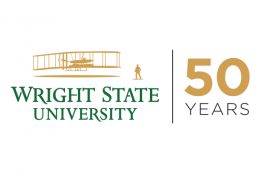 "It's our way of actually passing on what this university has meant to us literally throughout our whole lives," said Brown. "We feel it from the heart."
Originally founded as a branch campus of The Ohio State University and Miami University, Wright State became an independent institution in 1967. It celebrates its 50th anniversary in 2017, culminating with a special Homecoming celebration Sept. 29 through Oct. 1.