Her father was a stickler for being on time. In fact, he liked to be early. That's how his daughter, Sheila Skimmerhorn, found herself standing outside the Wright State University admissions office 30 minutes before it opened on that day in 1964.
Skimmerhorn's father had driven her from the family's Springfield home to the converted farmhouse that served as the original gateway to Wright State. Because she was early, Skimmerhorn was at the head of the line and became the first person to register at the new university as it opened its doors.
"I thought going to a brand new school would be really exciting," she recalled. "I was on TV and all that."
Today, the 69-year-old Skimmerhorn has come full circle. She is capping off a career as a Spanish teacher by working part-time at the Dayton Regional STEM School, of which Wright State is a founding partner.
"I'm happier than I've been in a long time," she said. "It's a wonderful place to be. The teachers, in particular, have gone out of their way to be so friendly, so helpful."
Skimmerhorn knew early on she wanted to be a teacher.
"I think it was because I was inspired by other teachers, especially a history teacher that I had," she said.
After graduating from Springfield South High School, Skimmerhorn enrolled at The Ohio State University, but then received a scholarship from the new Dayton school being formed by Ohio State and Miami University. She would go on to earn a bachelor's degree — double majoring in history and Spanish — from what would become Wright State University and was the first person at the school to complete her degree.
Skimmerhorn is "thrilled to death" that she chose to attend Wright State as it was just getting off the ground.
"We had Ph.D.s and the heads of departments teaching all of the freshman classes. We didn't know that was unusual," she said. "We had all these people who were experts in their field teaching. That was thrilling."
Skimmerhorn and a few other student senators played a key role in the christening of Wright State as an independent institution in 1967.
"I got to take the bottle of champagne and crash it into the bell tower," she recalled. "The secret is we had drunk the champagne and a few other things before we did that. We actually filled the bottle with water."
After graduating from Wright State, Skimmerhorn studied Spanish at a university in Mexico for a summer and then earned her master's in Spanish from the University of Cincinnati and later a master's degree in curriculum development from Wright State.
She launched her teaching career in 1968 in Springfield city schools and taught for 20 years at Greeneview High School in Jamestown. She retired from teaching at public schools in 2007 and for the next seven years taught at Springfield Catholic Central.
One of Skimmerhorn's students went on to become a Broadway star and several excelled in government careers.
"But I think having students who became teachers because of me is the ultimate," she said.
Skimmerhorn joined the Dayton Regional STEM School in August as a part-time Spanish teacher.
"The kids are great. They are so inventive," she said. "And there is so much collaboration among the teachers. You don't feel like you're all by yourself like you do a lot of times."
Skimmerhorn said teachers have so many more resources today than they once did, thanks to computers and the Internet.
"The instant access to information is absolutely amazing," she said.
But she said students need to realize that learning is sometimes just hard work.
"There comes a time when you just have to sit down and study," she said.
Skimmerhorn believes she chose the right profession.
"Teaching is where I needed to be, and I still love it," she said. "All of my friends are retired, and they think I'm crazy. But I would go absolutely crazy at home."
Skimmerhorn has arranged to have her remains donated to the Wright State University Boonshoft School of Medicine Anatomical Gift Program for educational and scientific purposes. An annual Memorial Program is held each fall for family members of the donors at Rockafield Cemetery on the campus.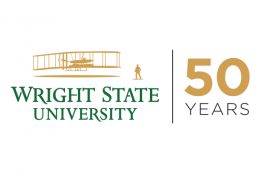 "I figure I may as well end up there," she said.
Originally founded as a branch campus of The Ohio State University and Miami University, Wright State became an independent institution in 1967. It celebrates its 50th anniversary in 2017, culminating with a special Homecoming celebration Sept. 29 through Oct. 1.