Ohio Gov. James Rhodes's efforts in the early 1960s to place public higher education facilities within 30 miles of every Ohioan led to the birth of Wright State University.
At the time, Dayton was a high-technology center with a special need for a highly developed labor force. Community leaders mounted a private capital-fund campaign to secure a joint branch campus for The Ohio State University and Miami University that could be converted into a unified state university.
A 428-acre parcel of land near Wright-Patterson Air Force Base was acquired, and in 1963, founders Robert S. Oelman and Stanley Allyn broke ground on the campus's first building, Allyn Hall.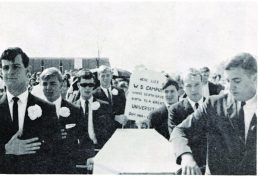 The campus opened in September 1964 with 3,203 registered students and 55 faculty members. The next year, State Bill 210 passed, allowing the campus to become an independent state university contingent upon enrollment totals. The Ohio General Assembly approved the name Wright State University to honor Dayton's Wright brothers.
In 1967, with 5,704 students, Wright State was granted its independent status. At the time, it had three buildings and included divisions of liberal arts, business administration, education, science and engineering, and graduate studies. To commemorate the new university, students held a mock funeral service and delivered eulogies for the departed branch campus.
Make a left at the ostrich
The seeds for Wright State were planted in a pasture 12 miles northeast of downtown Dayton. The chosen site had plenty of room for expansion, highway access, and was close to Wright-Patterson Air Force Base—a dream come true for Air Force planners hungry for a nearby university.
Gary Barlow, a high school art teacher and one of the first faculty members at Wright State, remembers coming up to see where the university would be built.
"It was grassland and fences and cows in the fields and so on," Barlow recalled. "I looked over and I thought, 'Oh my, did I give up a job to come over here for this? Something isn't even up yet.' Later I came out and watched the big hole in the ground being dug for the first building."
Students and others coming to campus for the first time were sometimes told to keep an eye out for an exotic animal farm off Colonel Glenn Highway and "make a left at the ostrich."
Barlow said the first class he taught was in a classroom that was still under construction. He said he would teach a little and then stop so the construction workers could install ceiling tiles. Then he would start teaching again.
"I'd asked the class a question, and the worker up on top of the ladder raised his hand. So I called on him and he answered, and he got involved in the lecture in the class," Barlow said. "Not many people have the opportunity of being there while a university is built around them. It's really a wild and crazy and wonderful thing."
Drinking the champagne
Sheila Skimmerhorn's ('70) father was a stickler for being on time. In fact, he liked to be early. That's how his daughter found herself standing outside the new campus admissions office in 1964, 30 minutes before it opened to begin registering students for the very first time.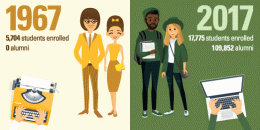 Skimmerhorn's father had driven her from the family's Springfield home to the converted farmhouse that served as the original gateway to campus. "I thought going to a brand new school would be really exciting," she recalled. "I was on TV and all that."
Skimmerhorn was "thrilled to death" that she chose to attend Wright State just as it was getting off the ground. "We had Ph.D.'s and the heads of departments teaching all of the freshman classes. We didn't know that was unusual," she said. "We had all these people who were experts in their field teaching. That was thrilling."
Skimmerhorn and a few other student senators played a key role in the christening of Wright State as an independent institution of 5,000 students in 1967.
"I got to take the bottle of champagne and crash it into the bell tower," she recalled. "The secret is we had drunk the champagne and a few other things before we did that. We actually filled the bottle with water."
Wright State's written histories
There's so much history about Wright State University that it takes two books to tell it all.
The university commissioned Lillie P. Howard, professor emerita and former senior vice president for curriculum and instruction, to chronicle the first 50 years, as well as events from 1961 to 1967 that led to the founding of the Dayton Campus. The book, 50 Years: The Incredible Journey, also honors friends, alumni, and community partners who have contributed to the university's tremendous growth. It is expected to be published in late fall and will be available on the Wright State Libraries CORE Scholar online repository.
Discover more history in Wright State University, by alumna Rebekkah Mulholland ('09, '12, '14). The book features more than 150 historical images and is available in Wright State's Barnes & Noble Bookstore and other stores.
The University Libraries' Special Collections and Archives contributed to both books.