When he was in grade school and playing little league, first-year Wright State medical student Jordan Italiano wanted to be a star football player when he grew up. He wanted to win the Heisman Trophy and get drafted by the Carolina Panthers.
As an undergraduate student at Kent State University, Italiano played safety for the Golden Flashes. For a time, he held on to the dream of going pro.
But nowadays, what he wants most is to be a caring doctor.
"It was definitely an adjustment that needed to be made, transitioning from high school to college," Italiano said. "Not a lot of people understand the time commitment of being a college athlete."
He put in the work and balanced a demanding schedule of games, traveling, film, practice and lifting weights. All the effort helped him rack up 257 tackles, five interceptions and five forced fumbles during his collegiate career.
Italiano also was a force off the field, scoring Academic All-American honors three years in a row. He was named the Smartest College Football Player by NFL.com in 2015. He graduated with a grade point average of 3.98 with a major in chemistry.
"I think that being a college athlete teaches you values, skills and characteristics that help you succeed in life," Italiano said. "Many of the values I've learned in football carry over in all aspects of my life."
In his junior year at Kent State, Italiano lost his grandfather to cancer. Seeing the pain he went through left Italiano feeling helpless. Doctor visits became a daily part of his grandpa's routine. It was like a game of musical chairs between his cardiologist, family physician, oncologist and pulmonologist.
As Italiano watched his grandfather struggle, he became more interested in medicine. He wanted to find a cure, and spent many hours reading and researching the disease in hopes of finding a missing link. His family's experience made him want to become a physician.
"I knew there would be no change of heart regarding what I wanted to do with my life," Italiano said. "My goal is to do my best to help future patients and make sure no family feels the way mine did."
The desire helped lead him to the Wright State University Boonshoft School of Medicine, where he found a community ready to support him.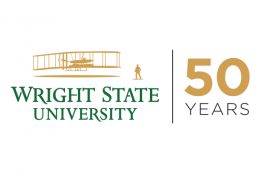 "I remember when I was invited for an interview. The main thing was the people," said Italiano, winner of a one-year Boonshoft Scholars award. "They seemed so dedicated to helping students succeed and achieve their goals in medicine. What really attracted me to the Boonshoft School of Medicine is the collaborative atmosphere."
Wright State became an independent institution in 1967 and spent the next 50 years growing into an innovative leader in affordable and accessible education. In 2017, it celebrates its 50th anniversary and sets the course for the next half century.