A combat exercise that enabled small businesses to test new battlefield technologies such as laser-protected eyewear and dehydration monitors was staged at Wright State University's Calamityville as part of a $2.7 million government contract.
Taking part in the Sept. 26 exercise at the National Center for Medical Readiness at Calamityville were about 50 military and civilian personnel from Air Force Materiel Command locations around the country, including security forces and roadside-bomb experts.
In addition, the exercise drew 20 different companies from around the nation, some of which were testing multiple technologies.
"It's a very, very exciting proposition," said Lt. Col. David E. Shahady, Tech Warrior exercise commander. "We have a huge array of technologies that are being tested out here. They are trying these things out in a realistic environment."
Calamityville is a 54-acre disaster and battlefield training zone with concrete passageway-filled buildings, silos, tunnels, ponds, cliffs and wooded areas.
"Calamityville is the perfect location for us, testing the types of things that we are — base defense, personnel recovery, medical response," said Shahady. "And it makes the perfect sandbox for incubating and developing innovative technologies."
The Wright State Research Institute was awarded the $2.7 million contract by the Air Force Research Laboratory at Wright-Patterson Air Force Base. The contract will enable small businesses to use Calamityville to demonstrate technologies over the next two years. Several smaller targeted exercises for the businesses to test their technologies are planned in the coming months.
"We're trying to accelerate their innovation, trying to accelerate the speed in which they can develop products," said Shahady.
Tech Warrior also gives scientists and engineers from AFRL a realistic battlefield experience so they better understand how the technologies they develop in the lab are used and the technology needs of soldiers and airmen.
The exercise was the culmination of five days of training and was part of a scenario in which a convoy delivered humanitarian aid to a fictional village damaged by hurricanes and an earthquake and besieged by armed insurgents.
Visitors and members of the news media filed into the back of green cargo vehicles, which bumped and rattled over the rolling and rocky terrain as the scenario unfolded. The convoy rolled past a group of angry protesters and a crashed car, outside of which sprawled the body of a high-fidelity, remote-controlled mannequin that enables medics to train in how to stop bleeding. A simulated roadside bomb brought the convoy to a halt, where it was attacked by masked insurgents armed with M-16s.
Shahady said the cooperation and support of Wright State, the Wright State Research Institute and Calamityville exceeded all expectations.
"The neat thing is they bring out all of the opportunities and all of the things on the table and certainly have offered all of their resources in collaboration of what we're bringing to the table," he said. "So that partnership has really become an extraordinary relationship."
Jim Gruenberg, deputy director of the National Center for Medical Readiness, called supporting Tech Warrior an "exciting opportunity" for Calamityville.
"We have the opportunity to design the scenarios, the opportunity to provide the instructors and to give these technical warriors — if you will — an experience they will never forget," said Gruenberg.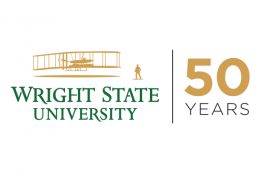 Wright State became an independent institution in 1967 and has grown into an innovative leader in the Dayton region and beyond, capturing the spirit of the university's namesakes, Wilbur and Orville Wright, who invented the world's first successful airplane from their Dayton bicycle shop. It celebrates its 50th anniversary as an independent public university in 2017, culminating with a special Homecoming celebration Sept. 29 through Oct. 1.