Wright State University Theatre opens its 43rd season with the Pulitzer Prize-winning comedy "You Can't Take It With You" in the Festival Playhouse in the Creative Arts Center.
Performances are Sept. 28, Oct. 4 and 5 at 7 p.m.; Sept. 29, 30, Oct. 6 and 7 at 8 p.m.; Oct. 1, 7 and 8 at 2 p.m. Tickets are $22 for adults, and $20 for students and seniors. For tickets call 937 775-2500 or purchase them online.
"You Can't Take It With You," by George S. Kaufman and Moss Hart," won the Pulitzer Prize for Drama in 1937. It opened on Broadway the previous year and played for 838 performances. A popular film adaptation starring James Stewart and Ann Miller and directed by Frank Capra won Academy Awards for Best Picture and Best Director in 1938. A 2014 revival on Broadway was led by James Earl Jones in the role of the family's wise patriarch.
The comedy features two polar-opposite families about to be joined through marriage. When Alice introduces her boyfriend Tony Kirby and his Wall Street parents to the eclectic Vanderhof family at a dinner gathering things get awkward. At the end of the day, however, the audience is reminded of what really matters.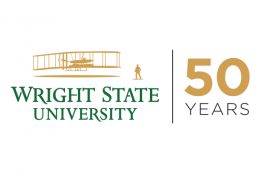 Directed by Joe Deer ("No, No, Nanette," "Chicago"), Wright State's production features a set designed by David J. Castellano ("The Children's Hour," "Restoration!"), costumes by Courtney Zimmerman, lights by Jennifer Watson, properties by John Lavarnway, sound by Silas Sheckels, technical direction by Timothy Crosby Judge, stage management by Tyree Franklin and vocal work by Deborah Thomas.
The cast features Katie Sinicki as Alice Sycamore, George Heddleston as Tony Kirby, Danni Hepp as Penelope Sycamore, Mackenzie Kasbaum as Essie, Logan Kitchens as Paul Sycamore, Kyle Krichbaum as Mr. DePinna, Jeremy Farley as Ed, Isaac Ingle as Martin Vanderhof/Grandpa, Kennedy Cook as Rheba, Christian Henderson as Donald, Nick Wasserbauer as Henderson, Zach Fretag as Boris Kolenkhov, Christine Fiala as Gay Wellington, Kenneth Erard as Mr. Kirby, Heather Cooperman as Mrs. Kirby, Alexia Vlahos as Grand Duchess Olga Katrina, Thomas Sheffer as G-Man, Jake Siwek as Mac and Dean McKenzie as Jim.
Dayton Power and Light is the opening play presenting sponsor for the 2017-2018 theatre season.
2017-18 Wright State Theatre season
The Wright State Theatre season continues with "Fiddler on the Roof," directed by artistic director W. Stuart McDowell, in the Festival Playhouse Nov. 2–19. The season also includes:
"Urinetown: The Musical," Dec. 1–10
"The Grapes of Wrath," Feb. 1–11
"The Mystery of Edwin Drood," March 15–April 8
"The Memory of Water," April 20–22
Wright State became an independent institution in 1967 and spent the next 50 years growing into an innovative leader in the performing arts. In 2017, it celebrates its 50th anniversary as an independent public university, culminating with a special Homecoming celebration Sept. 29 through Oct. 1.
Photos from "You Can't Take It With You":