Rachel Sturm's hard work poring over 25 years of research in leadership development is paying off.
Sturm, an assistant professor of management in Wright State's Raj Soin College of Business, received the Emerald Citations of Excellence Award, which recognizes papers in the area of business, finance, accounting, economics and marketing that have been highly cited.
Sturm's paper "Advances in leader and leadership development: A review of 25 years of research and theory" has 292 citations in less than three years. Emerald Publishing, a publishing company that specializes in research in business and management, sponsors the award.
Sturm received the award at the annual Academy of Management Conference in Atlanta in August.
"Part of the reason why this paper has so many citations is that it is a review of 25 years of research. That's a long period of time to review," she said. "The topic of leadership development is huge. It's a multibillion-dollar industry."
In 2014, while Sturm was still in her doctoral program at the University of Houston, Leanne Atwater, her adviser and editor of The Leadership Quarterly, asked Sturm to help write an article for the journal, which was nearing its 25 anniversary. Atwater explained to Sturm that the topic area of the article would be leadership development, something that greatly interested Sturm.
"If anyone offers you the opportunity to work on a paper to be published in the doctoral program, you say yes," Sturm said.
The article reviewed content in the field of leader and leadership development from The Leadership Quarterly, as well as other premiere management journals from the past 25 years. The topic of leadership development has long interested practitioners and an active, rich field of research theory building has emerged to scientifically support this interest. Sturm's paper covers how it has evolved and where scholars predict it will be going next.
Sturm worked with four other authors on the paper. Her adviser invited another doctoral student at the time, Rob McKee to work on the paper because both he and Sturm had a good work ethic and could write well.
David Day, the first author of the paper, is an expert in the field of leadership development, Sturm said. Day was responsible for conceptualizing the paper and creating a framework for the paper that Sturm and the other authors followed as they wrote their respective sections.
Sturm and McKee wrote sections of the paper that discussed intrapersonal and interpersonal aspects of becoming a leader. Intrapersonal aspects, Sturm said, come from within a person. This means that someone's personality, previous experiences and skills will affect how they lead in the future. Interpersonal aspects, however, are external forces, such as education, peers and communication with others.
After Sturm finished her sections of the paper, she shared it with her co-authors. After all the authors added their sections, they would take turns reviewing the paper as a whole and editing it.
"It became a very fluid process," she said. "Once the content is down on paper, you just use track changes with Word and you just keep passing the paper around until it's ready."
Sturm said her team made the experience of writing the paper a lot more fulfilling.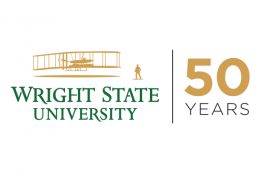 "When you have a great team, the performance will be there, but the fun will also be there," she said. "When you work with awesome co-authors like I did, they make the process a thousand times better."
Originally founded as a branch campus of The Ohio State University and Miami University, Wright State became an independent institution in 1967. It celebrates its 50th anniversary in 2017, culminating with a special Homecoming celebration Sept. 29 through Oct. 1.