Wright State University's 50th anniversary Homecoming Week ended with the annual Chili Cook-Off, a concert by former student and touring musician Clark Manson, special anniversary beers and men's soccer victory versus Detroit Mercy and a tough loss by the women's soccer team to Milwaukee.
A special gift giveaway — featuring a social media-driven vending machine — was a smashing success. Students and alumni posted a selfie to Twitter or Instagram in order to get a free Wright State T-shirt or hat.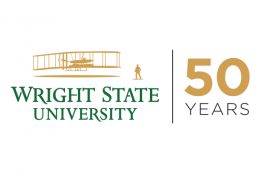 Homecoming Weekend also included numerous reunions, Casino Night, the College of Education and Human Services Trivia Night and the College of Science and Mathematics Pub Science talk.
Wright State became an independent institution in 1967 and spent the next 50 years growing into an innovative leader in affordable and accessible education. In 2017, it celebrates its 50th anniversary and sets the course for the next half century.