For Tricia Warnecke, a first-year medical student at the Wright State University Boonshoft School of Medicine, the road to medical school began with a broken foot. She still remembers how the physician treating her broken fifth metatarsal talked to her when she was 10, answering her question about why it didn't bleed.
Warnecke was fascinated by the force causing the bone to break, and the doctor explained to her how clotting helped to stop internal bleeding and allow healing to begin. It was her first experience with medicine and she was struck by the doctor's bedside manner and his effort to provide personalized care.
But it wasn't until she worked as a nurse's aide in a long-term nursing home that Warnecke started to consider a career in the health care field.
"It was a difficult and very rewarding job. The position taught me how important it is to advocate for those who may not have a voice," said Warnecke, who is from Delphos, Ohio. "I learned the importance of working as part of a health care team where every single member is essential in making sure the patient's needs are met."
She continued to serve as a nurse's aide while an undergraduate student at University of Saint Francis in Fort Wayne, Indiana. The valedictorian biology major also served as a medical scribe in an emergency department, an experience that taught her more valuable lessons about the field of medicine.
Warnecke was exposed to various injuries and illnesses, allowing her to see how physicians work through a patient's history and a physical examination to arrive at a diagnosis. Working as a scribe exposed her to exam skills, medications and diagnostic procedures that she is learning about in medical school, as well as documentation requirements.
She volunteered around campus, helping with efforts to sign up blood marrow donors and raising funds to support a Haitian orphanage and the work of the National Down Syndrome Society. Warnecke also made time to shadow a podiatrist.
"Shadowing showed me how important it is to take the time to get to know your patients, and also to treat the individual rather than the disease," said Warnecke, winner of a one-year, $20,000 Boonshoft Scholars scholarship. "It can be easy to become overwhelmed by the day's schedule or other obligations, but the best patient care I've witnessed occurs when the physician can leave all of their other commitments and concerns outside the door so that they're truly present with the patient."
Warnecke considered becoming a physician's assistant before applying to medical school. She realized that she wanted to provide the best care possible for her patients, and that working as a medical doctor would provide her more flexibility in making the best decisions for those she'll treat.
Though she's keeping her options open, Warnecke is interested in becoming a family medicine physician one day. Coming from the small town of Delphos in northwestern Ohio, she values community and is drawn to working in underserved rural areas, as many do through the Wright Rural Health Initiative.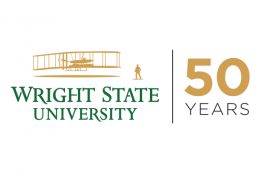 "I felt a true sense of community from the moment I walked in the door on my interview day," Warnecke said. "Everyone here was so supportive and made the day enjoyable. Boonshoft made me feel welcome from the start."
Wright State became an independent institution in 1967 and spent the next 50 years growing into an innovative leader in affordable and accessible education. In 2017, it celebrates its 50th anniversary and sets the course for the next half century.