Ohio agencies that work with public television stations to bring new technology to the classroom had help shaping their strategy to increase support and visibility from a group of Wright State University graduate students.
It was part of a semester-long project in associate professor Marjorie McLellan's Strategic Planning and Evaluation course in the Master of Public Administration Program. The course connects students with community organizations that want help with program evaluation and strategic planning.
The students were recruited by Ohio Ed Techs, an organization comprised of eight educational technology agencies funded in part by the Ohio Department of Education.
Ohio Ed Techs offers professional development on teaching and learning with technology to Ohio teachers, administrators and school district staff to address the training issue. These services, all at subsidized rates and some free of charge, include:
Single day and multiday workshops for school staff members
Hardware and software operation and application in the classroom
Continuing education and university credit
Regional conferences, including the Ohio Educational Technology Conference
Consulting services regarding instruction, curriculum, hardware and software
Their request in the fall of 2015 came in the wake of funding cuts and concerns about possible future cuts. They wanted the students to help them plan strategy and develop a report that would serve as a two-year roadmap for new initiatives, organizational development and to enhance capacity and internal collaboration.
The students were Julius Beckham, assistant director of special services for Huber Heights City Schools; Larry Cartwright; Christie Guzman; and Emily Stamas, director of marketing and communications in the Office of Advancement in the Wright State Boonshoft School of Medicine.
Following the work of the students, there were two mergers — one between Southwestern Ohio Instructional Technology Association (SOITA) and ThinkTV, Dayton's public television station, and the other with their counterparts in the Columbus area. In addition, some of the state funding to the agencies cut two years ago was restored.
"It was a real-world project in which we hit the ground running, working with this client one-on-one while we were learning," said Stamas.
The students first did their homework, collecting background information on all of the agencies. They then surveyed key stakeholders, including Ohio schools, the Ohio Department of Education and general managers and staff of the public television stations. Then they twice met with Ohio Ed Tech CEOs and managers from around the state in focus groups at The Ohio State University in Columbus.
"It was like a blind date," said Beckham.
He said the agency executives walked into the sessions from their separate silos and were at first very guarded, reluctant to open up. However, they were all concerned about their futures and future funding.
"They all had their own issues and frustrations, but they still all had the same bottom line," said Stamas. "It was very obvious that they had the same goals, and we had to figure out what plan to accomplish those goals."
Beckham said the agencies' vision statements hadn't changed in 20 years despite dramatic changes in technology.
"To keep up with the times, they had to make some changes," he said. "And change is hard."
Ohio Ed Techs is comprised of CET, the public television station in Cincinnati; the Public Broadcasting Foundation of Northwest Ohio (WGTE), Toledo; Western Reserve Public Media (WRPM), Kent; WVIZ/PBS Ideastream, Cleveland; Instructional Technology Services of Central Ohio (ITSCO), Westerville, with WOSU; SOITA, Dayton, with ThinkTV; Educational Technology for Southeast Ohio (ETSEO), Athens, with WOUB; and Northwest Ohio Educational Technology (NWOET), Bowling Green, with WBGU.
The students had taken classes on strategic planning, budgeting, program evaluation and strategic development. That helped them with their feedback to Ohio Ed Techs.
"It was really good for them to find commonalities — that they all had the same fears, the same opportunities," said Stamas. "I really feel that was the start of breaking some walls down and realizing that we are in this boat together."
Beckham said the students had to have strong interpersonal and communication skills and be able to take good notes.
"Listening is probably number one because you have to hear what people say and you have to be genuine in knowing what they said," he said.
Integrating technology into the curriculum is designed to improve student and teacher performance. Many teachers didn't realize that Ohio Ed Techs' services were there for them, that the agencies had the tools to help them in the classrooms and for professional development. Webinars, on-site training and making services more visible on the Ohio Ed Techs website were among suggestions that came out of the project.
The students suggested that the agencies increase marketing, upgrade their websites, diversify funding sources, strengthen collaborations amongst each other and better advocate for themselves to state leaders and lawmakers.
On Sept. 18, it was announced that SOITA was merging its teaching staff and resources with ThinkTV. Gary Greenberg, director of educational technology for ThinkTV in Dayton and CET in Cincinnati, was named SOITA's executive director.
ThinkTV (ThinkTV16/WPTD in Dayton and ThinkTV14/WPTO in Oxford) serves more than 750,000 viewers as well as more than 100 school districts, 20,000 teachers and 400,000 students.
SOITA's members include public and private schools seeking expertise in educational technology. All classes are taught by former teachers who understand the intricacies of using technology in the classroom environment. With nearly 1,000 members, SOITA serves 21 counties and reaches more than 30,000 educators in Ohio.
"Now that I see the fruits of our labor, I'm pleased," said Beckham. "I actually was able to see something grow, like I was a seed."
Beckham said the experience improved his skills in working with people and in developing long-term goals. He also discovered that he enjoys strategic planning.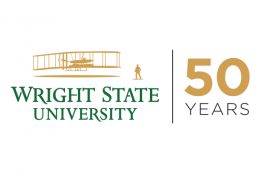 "I'm just excited that we had a really good team that worked well together," said Stamas. "We produced a product for this organization. I'm really excited that they're using it and it's helping them."
Originally founded as a branch campus of The Ohio State University and Miami University, Wright State became an independent institution in 1967. It celebrates its 50th anniversary in 2017.